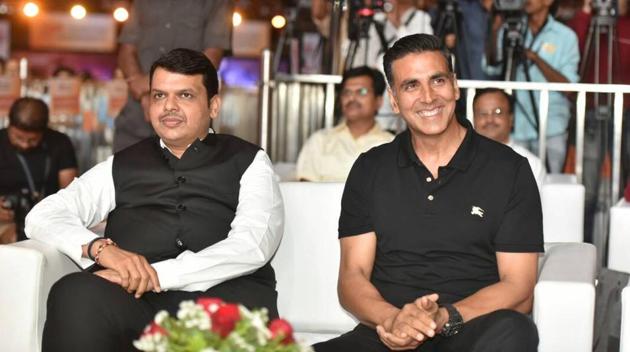 Soon, app that helps you find the nearest toilet: Maharashtra CM nod for actor Akshay Kumar's idea
The Maharashtra CM made the announcement in response to a suggestion by Bollywood actor Akshay Kumar
UPDATED ON MAY 01, 2017 03:45 PM IST
Building one toilet every 2km – that is how the Maharashtra government plans to tackle the problem of open defecation. Responding to Bollywood actor Akshay Kumar at the 'Transform Maharashtra' conclave held in Worli on Monday, chief minister Devendra Fadnavis said the state would construct an adequate number of toilets and geo-tag them. This means citizens will soon be able to find the nearest toilet using only a mobile application.
Kumar had said that a lot of people across the state, especially women, are inconvenienced by the lack of toilets. "Earlier, phone booths were built at fixed distances across the state. We could have 'toilet booths' built on similar lines so people won't have to suffer anymore," said Kumar. He suggested a mobile application that could help people locate the nearest toilet.
Fadnavis praised the idea and said the state would start work immediately. "The suggestion is important. Some foreign countries have successfully implemented your idea. We will implement this in Maharashtra too. The toilets will be geo-tagged to make them easier to find," Fadnavis said.
The 'Transform Maharashtra' conference was organised at the National Sports Club of India to commemorate the state's 57th foundation day. The state asked college students to suggest measures to resolve 11 of the state's most pressing issues.
As many as 11,500 students, who had formed groups of six, had sent their solutions to the CM. Groups were shortlisted through a screening mechanism. A panel of judges selected the best solution to each of the 11 problems, which were presented before the chief minister on Monday.
Empowering the urban poor, making Maharashtra drought-free, bridging the digital divide, promoting start-ups, developing sustainable and liveable cities, creating a swachha Maharashtra, improving mobility in cities, bringing about a 'zero-corruption' state, engaging citizens in governance, expediting justice through technology and reforming rural education are some of the issues that the CM addressed.
Ratan Tata, chairman of Tata group, Bhavish Aggarwal, Ola CEO, Bollywood actor Akshay Kumar and western command head of the Army Major General Anuj Mathur attended the session.
Close