Sound-proof windows and barriers to cut Metro noise In Mumbai
Two homes facing the Metro 3 project at Marol, Andheri, will get sound-proof windows, in what is posibly the first in a campaign against noise pollution at a construction site.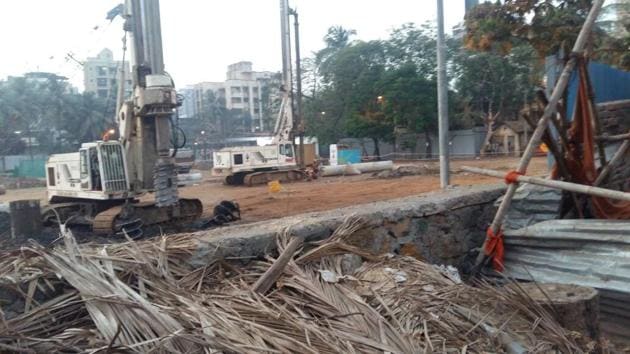 Published on Feb 14, 2017 08:38 AM IST
Two homes facing the Metro 3 project at Marol, Andheri, will get sound-proof windows, in what is posibly the first in a campaign against noise pollution at a construction site.
The Mumbai Metro Rail Corporation Limited (MMRCL) has directed its contractor to fit the windows at the homes facing the site near the Marol Village Road, free of cost. Additionally, sound barriers will be installed along the periphery at locations that are closer to residential settlements, as part of noise pollution abatement measures.
The move comes almost a month after HT reported that non-government organisation Watchdog Foundation filed a criminal complaint against officers from MMRCL and the contractor in the metropolitan magistrate court of Andheri, for flouting noise rules in a residential area through construction at the Colaba-Bandra-Seepz Metro-III underground corridor in the municipal playground area, in Marol. The hearing is scheduled on February 22.
"According to the noise rules, there are certain stipulations that need to be maintained during construction projects and we are following them. We have directed our contractor, Larsen & Tubro, to maintain decibel (dB) levels at the site and we are implementing it," said R Ramana, executive director (planning), MMRCL. "We also appointed a consultant to understand the noise reduction measures that are feasible at the site."
A senior MMRCL official from the construction site, on the condition of anonymity, told HT about the three-step process. "We identified two houses near Marol village road that have been facing noise pollution problems. The contractor is currently developing the windows that are padded with foam coated with a micro-perforated barrier to block the sound. The two houses will be sound-proofed soon and we will replicate it at other houses that are facing similar issues," he said. "Secondly, the contractors have finalised the sound barrier equipment to be placed at several spots across the 13,000 sq m ground."
The official added that MMRCL has also taken a call to minimise construction work between 10pm and 6am. "While the project needs to be completed within a stipulated time-frame, we have significantly reduced the workload during the night so that residents have no problems," the officer said.
NGO Watchdog Foundation carried out noise measurement at the site and alleged that noise levels were as loud as 92 -102 decibels (dB) from rock drilling machines, which is as loud as a power lawn mower or a helicopter at 100 feet from the ground. "All along the metro route, there are a number of residential sites close to the proposed tracks. All these houses need to be given such facilities," said Godfrey Pimenta, trustee.
According to NGO Awaaz Foundation, average dB levels during construction activities was found to be 107dB in Mumbai, as against the safety limit of 55dB during the day and 45dB at night for residential zones, and 50dB during the day and 40dB at night for Silence zones, as per Noise Pollution (Regulation and Control) Rules, 2000.
Doctors said that exposure to high decibels cause hearing loss, high blood pressure, mental health illness and even cancer. "Exposure to noise pollution above 80 decibels (dB) for eight hours a day for eight years will induce permanent deafness. Shorter exposure of higher decibel levels also damages the ear drums," said Dr MV Jagade, consultant ENT surgeon and head of department at Sir JJ Hospital and Grant Medical College.
Lokayukta directs Mumbai police commissioner to resolve noise problem in months' time
The Lokayukta (anti-corruption cell) has given the Mumbai police a 30-day time frame to resolve the noise pollution problem at the Metro 3 construction yard at Marol, following complaints by NGO Watchdog Foundation to the state environment department and Mahrashtra Pollution Control Board.
In a letter dated February 10, undersigned by the NN Tare, assistant registrar, Maharashtra Lokayukta, directed the Mumbai police commissioner and the pollution board to take necessary action and submit a report to the former by March 10.
Keeping it down
There are two types of sound barriers — a micro-perforated kind that brings down noise by 85% and a rockwool barrier (left, at Sion flyover) that reduces noise level between 70-75%. A micro-perforated barrier on the Lalbaug-Bharatmata flyover has cut noise by 17dB.
READ MORE
MMRDA wants night noise rules relaxed to build Metro on time
Bombay HC will not withdraw restraint for tree cutting for Metro 3
Close Story