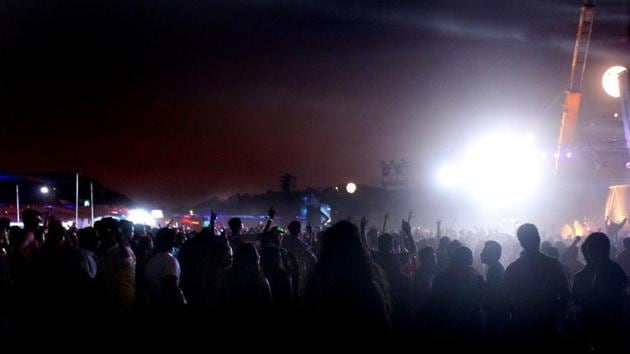 Sunburn begins as scheduled after HC paves the way
Bombay high court cleared the event after its organisers produced proof of all necessary permissions they had taken for organising the music and dance fest at Pune village...
UPDATED ON DEC 29, 2016 12:42 PM IST
Amid opposition from the rightwing outfits, including Shiv Sena, the popular dance and music event Sunburn festival commenced on Wednesday near Pune after the Bombay High Court cleared it. The organisers produced proof of all necessary permissions they had taken for organising the fest in the court.
Kesnand villagers, who were divided over whether to give permission to the event or not, said they will not disrupt the event until they find unlawful activities taking place at the venue.
Sunburn is being held on a 90-acre private plot at Kesnand, about 40 kilometre from Pune, from December 28 to 31. Organizers expect more than 60,000 people to attend the event, which is in its 10th year and has been facing opposition from various outfits.
Interestingly, one of the contentious issues among Kesnand villagers was serving of liquor at the festival. A section of villagers at Kesnand, which has remained liquor-free for the past 10 years, wanted the organisers to serve liquor to the visitors as they feared the flow of alcohol may lead to a high demand among village youngsters.
However, the promise made by the festival organisers about carrying development work in the village helped, allowing the festival to begin without any resistance.
Just before the event started on Wednesday, the police detained Shiv Sena workers for protesting against the event claiming that Sunburn offers free ground for illicit activities. Other outfits opposing the event include Sanatan Sanstha and Hindu Janjagriti Samiti.
Meanwhile, Pune police too issued a no-objection certificate (NOC) to Sunburn organisers. In order to boost tourism in the state, the event has received non-financial support from the Maharashtra government.
On Day 1
Siana Catherine kickstarted the action with her energetic and interactive set at the Main Stage with drummer Mr Bose on the Gionee Stage for company, setting pace for the rest of the day. Dutch artist Dannic also performed on the first day of the festival.
Terrazak, Arsh Indra J, Oozeundat and Eli & Fur engaged the enthusiastic audience on the Techno Deep House Stage as the sun came down on the beautiful hills. The discotheque vibe at this stage was perfect. There were just the right number of people, room to breathe and of course, brilliant music. House Music diva Priyanjana had the requisite festival bass lines to get the floor warmed up, bouncy and groovy all at once.
Karan Singh, CEO Sunburn said, "The turnout today far exceeded our expectations-especially since we have found a new abode in Pune. We still have three days to go, and expect a full house on December 31st. This year it's all about love for music and we have given the DJs longer sets to create a mood and actually tell their stories through music."
Also read
Sunburn festival divides Pune village, ministers
After Goa, Sunburn festival faces opposition in Maharashtra too
Close