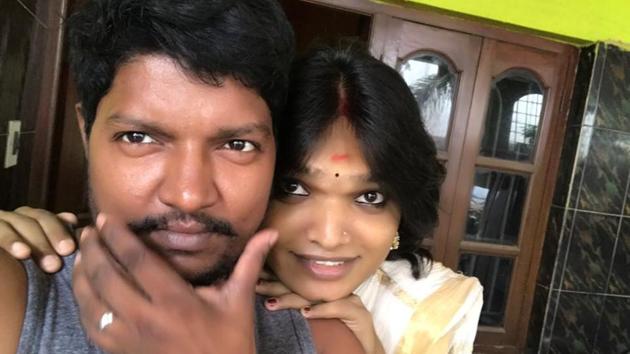 This couple found love at sex change clinic, wants to help others with gender disorder
Gender dysphoria is a condition where there is a conflict between a person's physical or assigned gender and the gender with which they identify
Hindustan Times | By Aayushi Pratap
, Mumbai
UPDATED ON AUG 22, 2017 10:04 PM IST
After finding love at a Mumbai sex-change clinic, the trans-sexual couple wants to help others who are suffering from gender identity disorder (GID), or gender dysphoria.
Gender dysphoria is a condition where there is a conflict between a person's physical or assigned gender and the gender with which they identify.
Aarav Appukuttan, 46, a woman who is now a man, and Sukanyeah Krishna, 21, who was born a man and is now a woman, met each at the Mumbai hospital they approached for surgeries to change their gender. Their casual friendship eventually blossomed into love.
The couple now plans to now start an organisation, through which they plan to counsel young children with GID and educate their parents about the issue.
Those suffering with GID feel "trapped' in their gender and have strong feelings of identification with the opposite sex, leading to emotional and mental trauma. Patients, who can undergo a gender reassignment surgery, also need psychological, psychiatric help. In the absence of psychiatric help, they face pressure from their families to go for therapies against their will.
"Parents usually don't understand the problem. They need to be sensitised to help their child, instead of making them feel like there is a problem with them," she said.
Recounting her childhood, Krishna said she had a tough time telling her parents what she was going through.
"My mother took me to a doctor who injected male hormones. The therapy broadened my shoulders and led to hair loss, which was traumatising. I felt like I was trapped in a man's body," she says.
Krishna says people with gender identity crisis often contemplate suicide as they have no outlet to express their feelings. To reach out to such people, the couple has started a close-knit Facebook group where people can reach out to each other.
She said people can join the group only through an invitation. "The group has doctors, and around 2000 people who are going through some sort of gender-related problems. Also, there are a lot of quacks who offer illegal means of gender change surgeries such as castration. We want to prevent people from exploring these options and go about with the transition in a correct way, through certified doctors and centres, "she said
Close