10,000 farmers in Mumbai after walking 40 km, give 'wake up' call to govt
Nov 22, 2018 05:19 PM IST
The protesters from across Maharashtra, who are struggling to cope with the drought, are demanding the proper implementation of the loan waiver package announced by Fadnavis in 2017.
A delegation of protesting farmers met Maharashtra chief minister Devendra Fadnavis on Thursday to reiterate their demands for loan waiver and land rights among others, eight months after they were promised reforms by the BJP government.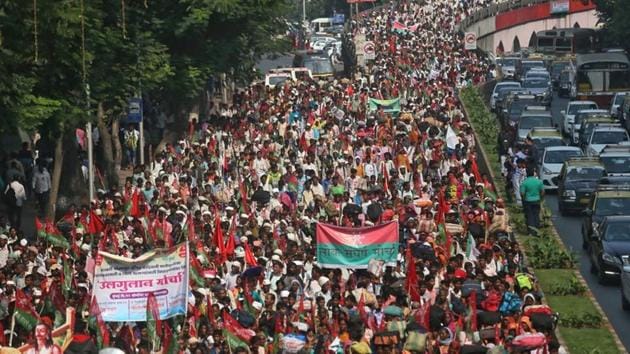 The state's water resource minister Girish Mahajan accompanied the delegation from Lok Sangharsh Morcha, the organisers of the march from Thane to the state capital, to their meeting with Fadnavis at the Vidhan Bhawan.
The farmers are demanding the proper implementation of the loan waiver package announced by Fadnavis last year and that of the recommendations of the MS Swaminathan Commission for 50% more than the cost of their crops, land rights for tribal farmers as well as compensation for farm labourers. They have been hit by a drought as well.
Thousands of farmers and tribals were back in Mumbai after walking nearly 40 kilometres to demand for the implementation of the measures promised by the Fadnavis government in March last year.
Morcha's general secretary Pratibha Shinde had said on Wednesday that the protesters, who are carrying two kilograms of rice and one kilogram of dal, will stay put in Mumbai unless their demands are met.
'Wake up'
Protesters earlier gathered at Azad Maidan, a ground known for protest meetings and political rallies as well as its cricket pitches, shouting slogans like "Maharashtra government wake up" as they held a rally.
The protesters from across Maharashtra started their March on Wednesday under the banner of Lok Sangharsh Morcha from Thane and walked for 13 hours to reach Azad Maidan.
Jilabai from Nandurbar district, who is more than 100 years old, was among the protesters who walked from Thane to Azad Maidan. She was called on the stage at Azad Maidan where she sang a song criticising the government and shouted slogans.
Sardar Ramsingh from Jalgaon said he sold his goat for Rs 1,400 to participate in the march to Mumbai. Ramsingh said he had five acres of land but it was acquired by the forest department and now has to work as a farm labourer on somebody else's land to earn Rs 150 per day.
"I had no money to come here. So, I sold my goat and arranged some money," he said.
They gathered at the Anand Nagar octroi naka in Mulund since Wednesday night. After marching for close to 19km, they halted for the night at Somaiyya Ground in Sion. The state government offered them buses from Sion but they refused, saying they preferred to walk.
Apart from the farmers, supporters of the Aam Aadmi Party and some Mumbai based social groups are also participating in the march.
Officials of the Brihanmumbai Electric Supply & Transport Undertaking (BEST) said they diverted all of its south-bound bus routes on Dr Babasaheb Ambedkar Marg via Bhoiwada and KEM Hospital route since 8am due to the march.
This is the second time in eight months that the farmers have marched to the state capital demanding for their rights. More than 35,000 farmers from across Maharashtra, led by Left-affiliated All India Kisan Sabha (AIKS), took out a march' from Nashik to Mumbai on March 12 to press for their demands. Their 180km march over several days culminated in Mumbai on March 11.
The farmers called off their agitation after the Bharatiya Janata Party-led government accepted "almost all" of their demands in writing and assured to implement them in a time-bound manner. But the farmers said the government has not met any of their demands since then.