Water crisis looms in Vidarbha and Marathwada as summer arrives
Apr 22, 2018 12:54 AM IST
In five districts, level falls to 19% from 27% last year, leads to rise in usage of water tankers
Five districts in the Amravati division in Vidarbha are facing shortage of water due to the dip in the water stock in the wake of lesser rainfall last year. The average water stock in the reservoirs in five districts — Amravati, Akola, Washim, Buldhana and Yavatmal — has dropped to 19.71% against the stock average of 27.96% last year on the same day. The state average of the water stock is, however, better at 35.76%, which was 29.30% last year on the same day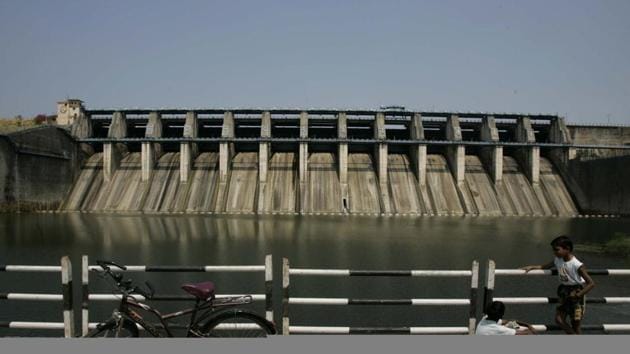 The Amravati division recorded the lowest rainfall when compared to five other divisions of the state. This has resulted in the reservoirs running dry faster than their annual rate. The available water stock in its dams and reservoirs has dropped to 1,594 million cubic meters, which is the lowest of any other region. The district administrations have been directed to tap alternative sources of water and to place emphasis on water conservation. While water stock in Nagpur division is only 18% as opposed to Amravati's 19.71%, the available water stock in Nagpur division is 1,989 million cubic meters, which is higher than the available water stock in Amravati.
The drop in the water level has led to a rise in the number of water tankers being used for supply of potable water. The local administration has deployed 140 tankers to supply potable water in the five districts. There were only two tankers supplying potable water in these districts last year during same period. Akola is the worst hit district in the region, with the water stock in its major dam, Katepurna, dipping to just 8.10%.
"We have been implementing various schemes including digging of wells under the employment guarantee scheme. Though the stock is expected to last till the monsoon is set, we have kept alternative sources tapped. Dipped groundwater level and lack of underground supply system for water has resulted in faster evaporation and depletion of the water stock," said an official from the Amravati divisional commissionerate.
Some of the districts in Marathwada too have been facing shortage of drinking water. Despite satisfactory rainfall last year in Marathwada, Aurangabad district has the state's highest number of tankers (300) deployed to supply potable water. "This is because of the mismanagement in the water supply system and cultivation of high amounts of the water guzzling crop of sugarcane in Marathwada," said Pradeep Purandare, irrigation expert from Marathwada.
Water resources minister Girish Mahajan said, "There is scarcity of water in some districts of Vidarbha, but we have managed to ensure that there would be no shortage of drinking water. In the rest of the state, the water stock will last till mid-July. The Jalyukta Shiva Yojana and KT Weirs project have helped in preserving water stock. Despite lesser rainfall last year compared to the earlier year, the water level is still high."
Sumeet Mullick, chief secretary, said the water conservation measures taken across the state and the irrigation projects in Vidarbha have helped the government in facing the water shortage in Vidarbha.