When underworld spilt blood on Mumbai streets
May 09, 2018 04:56 PM IST
Chhota Rajan's conviction in the J Dey case is reminiscent of the 1980s, 90s when builders, politicians, film folk were regularly threatened and some even killed.
In February 1981, Saabir Ibrahim Kaskar was killed at a petrol pump opposite Siddhivinayak Temple. He was shot five times, point-blank, by four men. His bullet-riddled body marked the beginning of approximately two decades of violent gang warfare on the streets of Mumbai – because Saabir's brother was Dawood Ibrahim, and Dawood wasn't going to let his brother's killers go gently into the night.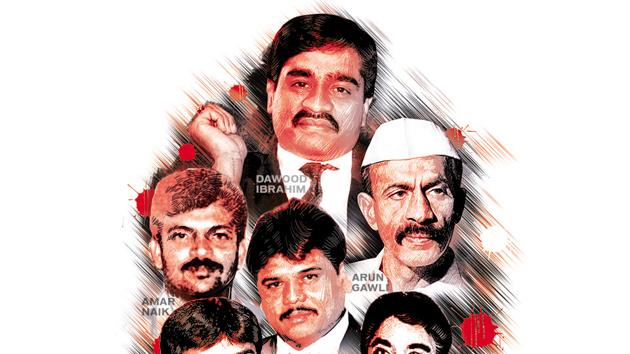 A gangland killing is murder carried out by organised criminals and Mumbai was witness to a spate of them, particularly in the 1990s. Gangsters had been lurking in the city's shadows since the 1940s, when Karim Lala, Haji Mastan, Vardharajan Mudaliar rose to prominence by smuggling goods and running gambling dens. The respectful distance that the gangs maintained from one, started curdling into animosity in the 1970s. Once Dawood's ambition came into play, the competition became violent. Dawood fled the country in 1986, but through his associates, who were part of his "D-Company", the gangster held the city in its grip.
In the 1980s and 1990s, the nexus between the rich, the powerful and the underworld was intricate and bloodthirsty. Law and order were broken by corruption and fear. Dawood's response to his brother's murder was to issue contracts to kill all members of the Pathan gang, originally started by Karim Lala. One of Saabir's killers, Amirzada Nawab Khan, was killed outside Mumbai's sessions court in September 1983. Another one, Samad Khan, was shot dead in a south Mumbai hotel, in 1984. Both had been killed by men loyal to Dawood and an era of violence unlike anything Mumbai had seen was about to begin with members and rivals of D-Company running wild. It took approximately two decades and more than 900 encounters to break the gangsters' stranglehold over the city. These are the men who made Mumbai tremble back in the days when the underworld was on top.
Dr Datta Samant and Thakiyudeen Abdul Wahid
Cars stopped, bullets fired, two lives taken
If there's a gangster who can give Dawood a run for his money, it's probably Chhota Rajan.
Born Rajendra Sadashiv Nikalje, Chhota Rajan began his criminal career selling cinema tickets, but quickly rose to positions of power when he joined the Bada Rajan gang in 1982.
Rajan would become Dawood's right hand man, but after the 1993 bomb blasts, the two fell out.
After that, his gang worked independently in smuggling, extortion and drug trafficking.
On November 13, 1995, Thakiyudeen Abdul Wahid, managing director of East West Airlines, was about to go home after a regular day at work.
Five men – one of whom was Rajan's trusted lieutenant Bunty Pandey – broke the windshield of Wahid's car and emptied 30 bullets into his body.
This was retaliation for Kukreja's murder and because Rajan believed Dawood had invested money in East West Airlines.
Bunty Pandey was extradited from Vietnam in 2010 and charged for Wahid's murder.
Rajan's most famous scalp, however, was the trade union leader Dr Datta Samant. Samant had catapulted to fame in 1982 with the Great Bombay Textile strike. On January 16, 1997, Samant, 64, was killed on his way to his Pant Nagar office. Four men fired indiscriminately at Samant's jeep, killing him and injuring his driver. It was one of the most violent cases of trade union rivalry in Mumbai's history.Rajan's involvement in Samant's murder was proven when in 2000, the courts convicted three members of his gang for gunning Samant down.
Gulshan Kumar
B-town was shaken
It was around 10.30 am on August 12, 1997 that Gulshan Kumar, owner of T-Series, came to visit a temple in Jeet Nagar.
Conspicuously missing was the bodyguard provided by the Uttar Pradesh government. Kumar had already received two threatening calls from the underworld because he had refused to pay ₹10 crore to the D-Company.
That morning, when Gulshan Kumar stepped out of the temple, he was alone. Adil Mohammed Khan came forward and shot Kumar. An injured Kumar tried to scramble away from his assailants, who fired in the air to disperse the crowd before killing Kumar. These men were hired killers and they knew the area because they'd done reconnaissance for a month before they executed the attack on Kumar.
The crime branch investigation revealed that the plot to kill Kumar had been hatched in Dubai, in May 1997. One of the masterminds was Abu Salem, who was ultimately arrested in 2002 and was convicted for his involvement in the 1993 bomb blast case, in 2017.
Babu Gopal Reshim
'Vijay, assa karu naka' were his last words
In the first week of March 1987, Babu Gopal Reshim was in police lock-up at Agripada police station. Reshim was a criminal – he'd run petty crimes with gangster Arun Gawli, earned Dawood's approval when he'd killed Samad Khan with Chhota Rajan, and been deployed to break up the textile workers' strike led by Datta Samant.
Officially, Reshim was in police custody because he'd been charged with attempted murder. The whispers, however, were that he was safest in police lock-up because one of the labour unions and a rival gang were baying for his blood.
Unfortunately for Reshim, the rival gang had an influential and cash-rich ally: the Dholakias.
On March 5, a group of eight people took two taxis at 3am and after driving around central Mumbai, they eventually threw the cabbies out and drove the cabs to Agripada police station. One of them walked in and asked for the keys to the ground floor cells, where Reshim was being held. When the constable on duty refused, the eight men threw crude bombs and then opened fire. Reshim was killed, but before he died, he reportedly yelled, "Vijay, assa karu naka (Vijay, don't do this)." It seems he knew Vijay Babulal Uttekar, alias Vijay Kanjari, who was among the men who attacked the station that night. Kanjari would later be killed in a police encounter. The word on the street was that the attack on Reshim had been ordered by Mahesh and Arvind Dholakia, who were close to a rival gang and ran their own illegal operations.
A month later, Mahesh was killed just 200m away from his Peddar Road apartment.
Ten bullets were pumped into him at close range and it was believed this hit had been ordered as retaliation for Reshim's death.
Pradeep Jain and Om Prakash Kukreja
Refusal to pay, link with rival don cost these builders dearly
Between 1994 and 1995, the underworld had unleashed a wave of attacks on builders and real estate developers in Mumbai. Nearly 16 attacks had been carried out in this period. Two of the most chilling were ordered by Abu Salem, one of Dawood's most high-profile associates.
On March 7 1995, builder Pradeep Jain was shot dead by assailants outside his Juhu bungalow after he allegedly refused to part with his huge property to Abu Salem.
The dispute started with Salem demanding rights over the property at Dongri. When the brothers did not succumb to threats, Salem demanded Jain and his brothers to pay him ₹1 crore.
The Jain brothers paid ₹10 lakh, and could not pay any more. To refuse Salem, however, was to invite death to your doorstep.
In September 1995, Om Prakash Kukreja was napping in his office in Chembur when three visitors including Salim Haddi and Raju Egre barged in, pulled out their pistols and killed Kukreja.
Abu Salem would later tell investigators that he'd organised the attack and Kukreja had been targeted because the D-Company believed Kukreja was financing their rival Chhota Rajan. The hit was aimed at cutting out Rajan's finances.
Kamalkar Jansandekar
Showered with bullets while he watched TV
On March 2, 2007, Shiv Sena municipal councilor Kamlakar Jamsandekar was watching television in his Andheri (East) home. Two men barged in and shot him, killing Jamsandekar on the spot.
Five months later, the court said that Jamsandekar had been killed on gangster Arun Gawli's orders and found Gawli guilty of murder.
Of the 25 cases that had been filed against Gawli over the past 25 years, this was the first to stick.
Known as "Daddy" to his followers, Gawli had the image of being a Robin Hood character. Proudly Marathi, Gawli was projected as the Hindu don to take on Dawood's Muslim gang.
As Shiv Sena's Bal Thackeray had put it while addressing a rally after the 1993 bomb blasts, "If you have Dawood, we have Gawli." Gawli was arrested multiple times but got away on every occasion due to lack of evidence.
In the mid-1990s, Gawli started his own political party, Akhil Bharatiya Sena.
Mumbai's crime branch found that Jamsandekar's death was the result of him fighting with a builder named Sadashiv Surve over a plot of land.
Surve teamed up with another builder, Sahebrao Bhintade, and approached Pratap Godse and Ajit Rane of Gawli's gang to eliminate Jamsandekar.
Gawli agreed to undertake the contract killing for ₹30 lakh, and instructed his henchman Pratap Godse to find the shooters.
The court sentenced him to life imprisonment.
Ramdas Nayak
Fired at from Kalashnikov rifle
On August 25, 1994, BJP's city unit president Ramdas Nayak stepped out of his house at around 10 am and was killed in a shower of bullets. The incident was a gruesome reminder of the connections between the political establishment and the Mumbai underworld. Nayak was actually known for campaigning long and hard to expose a cement scandal and the BJP was convinced that his death had been ordered because of political rivalry. While this was not conclusively proven, Nayak's death is a landmark for another reason: it's the first time a Kalashnikov rifle was used in a gangland killing.
Mumbai's crime branch's investigation revealed the plot to kill Nayak had been hatched by D-Company leader Chhota Shakeel, who was one of Dawood's most trusted men. Shakeel was in Dubai at the time and gave the contract to kill Nayak to one of his gang's most dreaded shooters, Feroze Abdullah Sarhuru alias Feroze Konkani.
The hunt for Konkani would cost Mumbai Police dearly – he killed as many as three informants while the police closed in on him. Even when they did manage to arrest him, Chhota Shakeel's reach proved to be longer than the arm of the law.
In May 1998, Konkani, who was in police custody, had been brought to JJ Hospital for a test when he asked to go to the bathroom. While he was inside, two motorcycle borne assailants barged into the compound and fired at the constables who were accompanying him.
Konkani came out of the toilet and escaped on the motorcycle.
Sunit Kahtau
Mill land deal gone wrong; even bullet-proof car couldn't save him
In 1990s, land owners were often turning to small-time gangsters to clear their land of tenants or intimidate workers. One of the more violent examples of this was the murder of Sunit Khatau, chairman and managing director Khatau Makanji Spinning and Weaving Company Ltd.
Khatau wanted to sell his 13-acre mill land in Byculla and buy a larger plot in Borivli. The rumour was that he would get ₹300 crore for the land in Byculla. The problem was that his workers had formed a trade union and were opposed to this move. Khatau turned to gangster Arun Gawli, who engineered a coup to oust the president of the trade union and replaced him with a more cooperative candidate.
On May 7, 1994, when Khatau's bullet-proof Mercedes came to a halt at the busy Mahalaxmi bridge traffic signal, two men on a motorcycle pulled up alongside. One got off the bike, and smashed the car's window with a hammer. The men then shot Khatau. A week later, the police arrested Naik's henchman Santosh Pangarkar for Khatau's murder.
It's believed Khatau was killed because he was too closely identified with Gawli whose rivals feared that he would become too powerful and rich with the cut he'd get if Khatau's sale of the Byculla land went through.
Prem Kumar Sharma
Celebrations with family turned tragic
When Prem Kumar Sharma's daughter got her exam results in June 1993, the Bharatiya Janata Party leader went out for a celebratory meal. When their car reached the restaurant on Grant road and Sharma stepped out, two men came and fired at him. The shooters were Manoj Gupta and A Sayyed, sharp shooters employed by Ejaz Pathan, one of Dawood's trusted henchmen.
Pathan was among those accused in the 1993 Mumbai bomb blasts. Pathan plotted the murder and the ensuing police investigation pointed to dubious land deals in south and central Mumbai. While Sayyed would be killed in an encounter in 1995, Gupta was arrested and convicted for Sharma's murder.
Later, Pathan would fell out of favour with Dawood, who tried to have Pathan killed in 1998. Pathan was arrested by the crime branch in 2003, after being extradited from United Arab Emirates. A week after he was sentenced to 10 years' imprisonment for his involvement in the 1993 blasts, he died of a heart attack in 2007.