Zakir Naik had dummy firms to divert funds, ED tells court
The Enforcement Directorate (ED) on Friday told the court that televangelist Zakir Naik established dummy companies in the country as well as abroad to divert funds.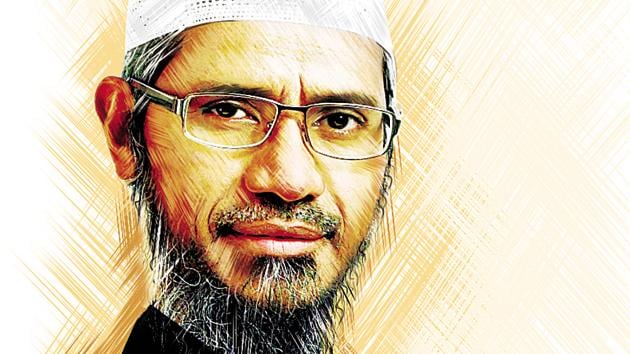 Published on Feb 18, 2017 01:01 AM IST
The Enforcement Directorate (ED) on Friday told the court that televangelist Zakir Naik established dummy companies in the country as well as abroad to divert funds.
The central agency produced Aamir Gazdar, a close confidante of Naik, in front of a special Prevention of Money Laundering Court (PMLA) on Friday. He has been sent to ED custody for five days after prosecution said that "Gazdar played a pivotal role in acquiring and disposing of the cash." "Dummy companies were used to camouflage the diversion of funds received by Naik though his illegal activities of provocative speeches," read the remand report.
The agency also revealed that videos of provocative speeches were produced and sent to Dubai for telecasting. "Huge amount of cash transactions without levying any trail of its origin or utilisation thereof, were conducted by Naik through Gazdar. The cash amounts were collected and provided to the employees/officials of the IRF trust," read the report.
It further read, "The obvious attempt of Gazdar appears to be aimed at not only protecting himself, but also providing cover for Naik from lawful actions,"
ED revealed that Gazdar is a director in at least six companies established by Naik. Two companies are in the England- Universal broadcasting corporation Ltd and Lords production Inc Ltd, England and four others based in Mumbai — Harmony Media Pvt Ltd, Long-lost constructions Pvt Ltd, Majestic Perfumes Pvt Ltd and Alpha Lubricants Pvt Ltd.
ED counsel Hiten Venegaonkar sought six days of custody. He cited a government notification declaring Islamic Research Foundation (IRF) to be an 'unlawful association'. "IRF has been receiving several crores of rupees. Neither the generation of the cash or the utilisation could be probed as Naik is absconding," he said while demanding custody of Gazdar as "he was hiding more than he was revealing."
"During the first statement, Gazdar denied any links with the companies, but he was shown the proofs and then the second statement was recorded," argued Venegaonkar. The defence argued that Gazdar has appeared before the agencies every time he has been summoned.
"ED has been demanding details of the account. However, the papers are already in possession of the National Investigating Agency (NIA)," argued advocate Taraq Sayyed ,who appeared with advocate Mahesh Mule.
What's the case?
Aamir Gazdar was arrested by the Enforcement Directorate under Section 19 of the PMLA on Thursday at 7.30 pm. The ED alleged that he is aware of the activities of Dr Zakir Naik and has been constantly in touch with him.
After a ban on the IRF, the NIA registered a case against Naik and the IRF on charges of inciting Muslim youth to indulge in violence and promoting enmity between groups on the basis of religion and race The FIR has accused him of giving speeches that disturb communal harmony. The agency also charged Naik with indulging in activities that harm national integration. Naik has been out of the country after reports emerged that his sermons influenced a few of the Bangladeshi attackers, who targeted an eatery in Dhaka on July 1. Bangladesh has banned Naik's Peace TV, saying it incited the attack on a Dhaka cafe in which 22 people were gunned down.
Close Story
Personalise your news feed. Follow trending topics