Corporators demand shelter for drought migrants in Mumbai
Hindustan Times |
, Mumbai
HT Correspondent
Apr 18, 2016 11:58 PM IST
People from drought-hit areas who are in the city do not have food, homes and jobs
In order to help those displaced by the severe drought in the state, Brihanmumbai Municipal Corporation (BMC) corporators across party lines demanded aid in form of shelter, food and jobs from the civic body.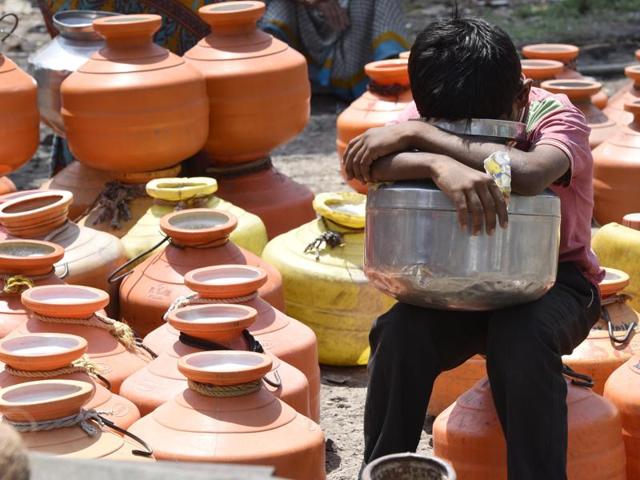 Around 200 people from various districts have migrated to the city and are struggling to find shelters and jobs, with many taking up jobs as wage earners.
Pravin Chheda, Congress group leader in the general body meeting on Monday, raised the issue of migrants from Latur demanding financial help from the civic body. The families have been living in a pitiable condition in Ghatkopar for days, struggling for basic necessities after they were forced to leave their homes owing to severe water scarcity, he said.
Read more Water relief for Latur as local body restores defunct scheme
Chheda, however, was immediately criticised by Samajwadi Party group leader Rais Shaikh, who blamed the Congress government that ruled state for 15 years for the dismal conditions of the farmers as they had not managed the consecutive droughts in the state effectively.
"The displaced should be provided shelter, food and jobs. The civic authorities should help them in all ways possible . Also, the leaders should not forget who is responsible for this condition of the farmers in the state," he said.
Urging for politics being sidelined for the sake of those affected by drought, both the Bharatiya Janata Party (BJP) and the Shiv Sena supported the Congress leader's demand. The allies said that the BMC should extend a helping hand by opening night shelters and schools for the drought affected who have migrated to the city.
"All help should be extended to those displaced owing to drought. The BMC, under the leadership of the mayor, should set up a drought mitigation committee for the city and to help those affected," said Manoj Kotak, group leader of the BJP.