No respite: Mumbai suffers as smoke from Deonar dump poisons air
The air quality index on Sunday read 333, which falls under the 'very poor' category and triggers a health alert. On Monday the AQI is expected to be 329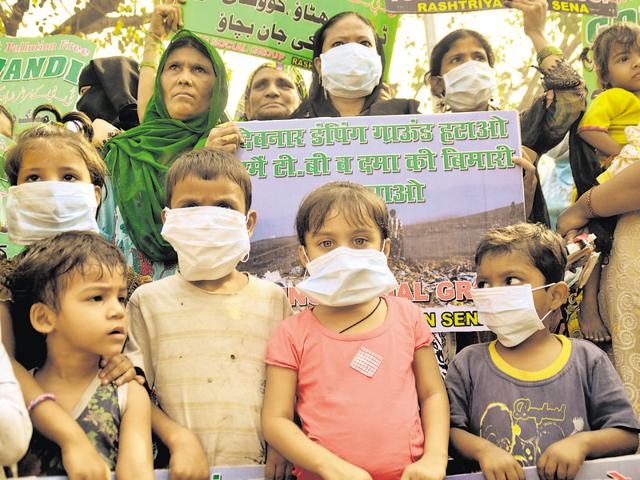 Updated on Feb 01, 2016 03:44 PM IST
For the third day in a row, Mumbai's air quality remained in the 'very poor' category as smoke from the fire at the Deonar garbage dump continued to trouble residents on Sunday. What is worse, the forecast for Monday is bad too.
The air quality index on Sunday read 333, which falls under the 'very poor' category and triggers a health alert. On Monday the AQI is expected to be 329.
The smoke is not being dissipated fast enough as the winds are weak now and temperatures too are low. The winds are expected to pick up in the next few days.
Read more: Mumbai chokes with pollution levels on rise
The BMC, meanwhile, claimed the fire at Deonar was controlled and that the smoke had reduced considerably. An official admitted it would take some more time to completely douse the fire.
"On Sunday, heavier pollutant particles continued to be suspended closer to the Earth's surface in and around the landfill site. It's the smaller pollutant particles spread across the city that drastically brought down the average air quality in Mumbai," said Gufran Beig, project director, the System of Air Quality Weather Forecasting and Research (SAFAR), which records AQI at 10 locations across the city.
Eight out of the 10 locations recorded 'very poor' air quality, with Malad, Chembur and Navi Mumbai being most polluted with AQI levels at 370, 362 and 344 respectively.
Beig said the low wind speeds over the past 48 hours led to smog across the city's eastern and central parts. "We expect air pollution levels to improve over the next three days as winds are expected to pick up speed," he said. Meanwhile, officials from the state pollution control board told HT that over the past one year, 10 notices had been issued to the civic body to take proper measures to treat garbage at Deonar, as per the solid waste management rules.
An air quality assessment report by the Maharashtra Pollution control Board around the landfill over the last two days is awaited. "We will then issue a final notice to the civic body, and prosecution notice will be filed in court if they do not take adequate measures," said a senior official.
An AQI of 345 was recorded on Friday, which was the highest since air quality monitoring began in June followed by 318 on Saturday that further increased on Sunday.
Close Story