Bappi Lahiri, Shaan and Neeti Mohan tell us why retro music is so popular
Bappi Lahiri, Shaan and Neeti Mohan talk about their association with Radio Nasha 107.2.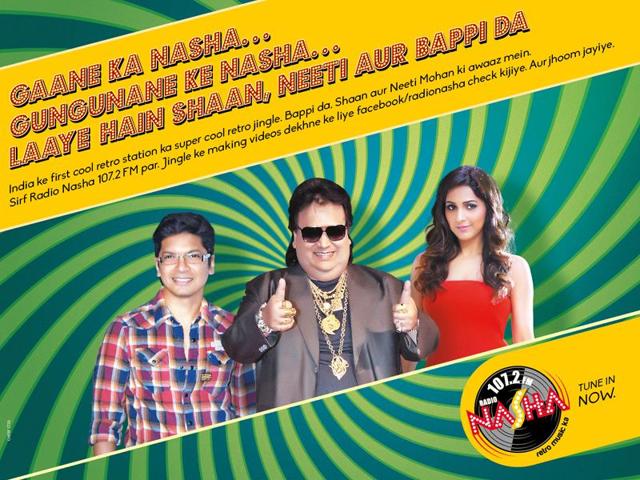 Updated on Apr 27, 2016 05:09 PM IST
Are you a die-hard lover of Bollywood retro music, but don't know where to get a never-ending playlist of classics? Tune into Radio Nasha 107.2 FM, the recently launched radio station, dedicated to the music of the '70s, '80s and '90s. Apart from playing evergreen hits, this channel — which aims to make retro 'cool' — is also packed with Bollywood celebrities. Here, popular singers Bappi Lahiri, Shaan and Neeti Mohan talk about their association with Radio Nasha 107.2, the experience of working on its jingle, why retro music is popular, and more.
What does retro music mean to you?
SHAAN: For me, retro music is nostalgia. The talent that those songs showcase is overwhelming. The coming together of great lyrics, amazing compositions, and classic arrangements, is all magical.
NEETI: For me, retro music is classic, evergreen and beautiful. I feel I am a student of retro music. It's my reference point at so many levels.
BAPPI: I miss the past era. I remember while working on the song, 'Jahan chaar yaar mil jaayein', Kishore Kumar and Amitabh Bachchan came to my house, and Amitji started rapping at around 1am. So, we included that part in the song, as Bob Marley's reggae was really popular at that time. That's the only song till date, which has been sung by Kishore Kumar and Amitabh Bachchan together. That fun is missing now. Recording with 100 musicians together used to be magical. Today's generation of musicians haven't seen that time, and the way we used to make music.
Why do you think music from that era is still so popular?
SHAAN: Every era has its share of hit songs. But, only a few tracks filter through to the next generation. Retro music has that connect with people that technology cannot substitute. This is why, even today, some of these songs are as popular as the latest hits.
NEETI: I feel it's the music we have all grown-up listening to. It gives you a sense of belonging as you have memories and nostalgia attached to so many tracks.
Who have been your greatest inspirations?
SHAAN: Salil Chowdhury (composer), Madan Mohan (composer), Mohammed Rafi (singer), Kishore Kumar (singer), Lataji (Mangeshkar; singer) and Ashaji (Bhosle; singer) are my all-time inspirations. But, if I have to take just one name, it would be RD Burman's (composer).
NEETI: My biggest inspirations have been Kishore da (Kumar), Lataji and Ashaji.
What do you feel about the sound of Radio Nasha 107.2 FM?
SHAAN: I find the energy of this radio station infectious and addictive.
NEETI: The sound of the station is upbeat and groovy. Though the songs they play are 20-30 years old, the presentation remains young to appeal to today's generation. No matter what age group you belong to, retro is always in.
More about Radio Nasha:
HT Media Ltd. has launched its second radio station, Radio Nasha 107.2 FM, in Delhi. Radio Nasha is India's first cool retro station and mainly plays Bollywood music from the '70s, '80s and '90s. The launch of Radio Nasha 107.2 FM in Delhi is the first of the phase III radio launches from HT Media Ltd., which had acquired 10 new frequencies across Delhi, Mumbai, Hyderabad and UP during the phase III auctions. According to company sources, the new station garnered a lot of appreciation on social media during its test transmission that started on February 26, 2016. With the launch of Radio Nasha 107.2 FM in Delhi, HT Media Ltd. will be the only company in India operating two stations in Delhi. Fever FM is the fastest growing radio station in the country and strategy has been to segment the radio-listening market into two distinct spaces – Radio Nasha 107.2 FM that will play cool retro music and existing Fever 104 FM that plays contemporary hit Bollywood music. The two differentiated radio stations will offer advertisers a choice of two sets of audiences to meet their needs better.
Follow Radio Nasha 107.2 FM
Facebook - www.facebook.com/radionashadelhi/
Twitter - @RadioNasha1072
Website – www.radionasha.com
Close Story