Grammy Awards 2017: Wanted to bring Gurbani to a larger audience, says White Sun singer Gurujas
Los Angeles-based band White Sun bagged the Grammy for Best New Age Album at the 59th Annual Grammy Awards on February 12. The album, White Sun II, was released in August last year, and its title song was on top of Billboard charts for New Age music.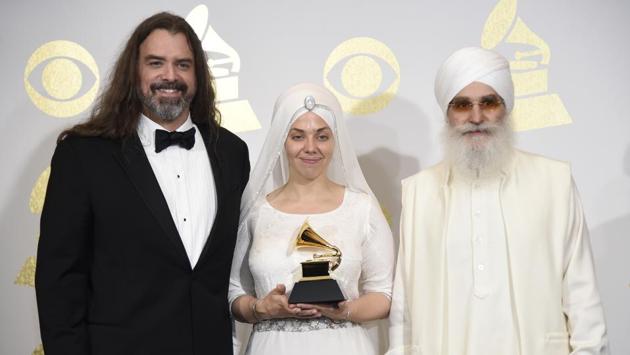 Updated on Feb 16, 2017 12:07 AM IST
Hindustan Times |
, Chandigarh
Manraj Grewal Sharma
Los Angeles-based band White Sun bagged the Grammy for Best New Age Album at the 59th Annual Grammy Awards on February 12. The album, White Sun II, was released in August last year, and its title song was on top of Billboard charts for New Age music. Talking to HT on the phone from Spain, Gurujas Khalsa, 33, the lead singer and songwriter of the band, dwelt on how kundalini yoga helped to shape her award-winning album.
How does it feel to win the Grammy, and how do you plan to take this success forward?
It's an incredible feeling. It's difficult to describe it. Now we are working on a third album after which we will start touring. India is very much on our itinerary.
Also read | Grammy Awards 2017: Adele, David Bowie dethrone Queen Beyonce
Tell us a bit about your musical journey.
I was born and raised in Cleveland, Ohio. I grew up in a very musical family. My mother was a trained violinist and my sister used to play the piano. I was part of the Cleveland choir. But when I went to college in Michigan, music was relegated to a hobby. It came back to my life when I started learning kundalini yoga from Harjiwan Khalsa in Los Angeles in 2005. Harjiwan introduced me to Gurbani. I started hearing the music in the mantras. But it wasn't like the traditional kirtan. I was hearing the melody of the mantras differently, and I really wanted to make music. It was wonderful when my teacher Harjiwan formed our band in 2015.
Why is the band called White Sun?
Harjiwan gave it this name, it has a profound meaning, for in all time, space and universe, it is the central sun. Harjiwan formed the band because he wanted to bring Gurbani mantras to a larger audience so that many more people could benefit from them. The sound of these mantras has changed so many lives.
How did you get your name Gurujas?
I was given this name in 2005 when I embraced Sikhism.
You also teach kundalini yoga. Tell us a bit about your yogic journey.
Kundalini yoga has affected me in a miraculous way. Without it, I wouldn't be anywhere close to where I am at present. I used to practice hath yoga in college. Once a student asked our teacher about kundalini yoga and she told her that it was a very fast yoga. That caught my interest. When I went to LA, I searched for kundalini teachers and started learning it from Harjiwan. Though it appeared foreign to me from the outside, it felt very authentic and powerful on the inside. It taught me to feel the energy inside.
How did your family react to it?
It's interesting. When you practice kundalini, you don't drink, you don't smoke. It teaches you to practice kindness and compassion. It's hard for anyone to object to that. My husband, Harimander Singh Khalsa, is also an American Sikh. He works in Hollywood as a visual effects supervisor and has an Emmy Award to his credit. Our 11-month-old daughter, Pritam Shanti, was with me at the Grammys. Since 2005, I've been visiting India regularly. I am particularly fond of Gurdwara Goindwal Sahib, where I recite Japji Sahib on each of the 84 steps. I also enjoy going to Dharamshala and other Buddhist places.
Do you enjoy Indian music? Any favorite musicians?
Yes, very much. I am particularly fond of Bhai Kartar Singh, resident raagi of Gurdwara Bangla Sahib; Bhai Satnam Singh and Bhai Avtar Singh, among others. Sant Baba Nihal Singh is one of my teachers.
Any tips for young musicians and practitioners of kundalini yoga?
You just have to keep going, and striving to become better. Work very hard, push past all resistance from others and yourself, and keep challenging yourself.
Dawn of the White Sun
White Sun, a band formed in 2015 by Harijiwan Singh Khalsa, Gurujas Khalsa, and Adam Berry, is well-known for its musical interpretations of Gurbani hymns. Many of the lyrics of their second album, White Sun II, are hymns from the Jaap Sahib penned by Guru Gobind Singh.
Both the lead vocalist, Gurujas Khalsa, and instrumentalist Harjiwan Singh Khalsa are followers of late Yogi Harbhajan, who introduced kundalini yoga to the US. He set up the 3HO Foundation, which has over 300 centres in 35 countries.
The album has another Indian connection – tabla player Abhiman Kaushal, who was born and raised in Hyderabad. In an email exchange with HT, Kaushal said he was initiated into tabla by his father RB Kaushal, a disciple of the legendary Ustad Amir Hussain Khan. In his formative years, Kaushal learnt tabla from renowned Ustad Sheikh Dawood of Hyderabad. At present, Kaushal is faculty and director for music of India at the University of California, Los Angeles, ( UCLA) and faculty at the University of California, Riverside,.
Kaushal says Gurujas contacted him for the musical collaboration. "This was one of the most inspiring merging of sounds I have ever experienced." Berry composes the band's music and is a two-time Emmy winner for his work on animated satire South Park.
Writer tweets @grewal_sharma
Close Story
Personalise your news feed. Follow trending topics