Drive to register 5,000 street food vendors in Ghaziabad
May 18, 2017 10:14 PM IST
District food department officials take steps to ensure stall owners follow hygienic practices
The district food department officials on Wednesday launched a drive to educate street vendors about hygiene and get them registered with the department. The city has presently around 13,000 registered and 5,000 unregistered street vendors.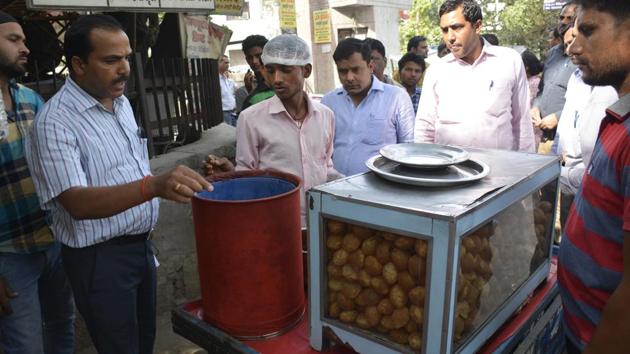 Under the drive, the officials have asked vendors to cover their food products and use containers like stainless steel to ensure hygienic preservation of food products. The drive will continue till June, before the onset of monsoon season.
"The drive will encourage unregistered vendors to get registered or face enforcement action. We aim to educate vendors to keep food stalls and surroundings clean. They will be asked to procure dustbins to collect leftovers, paper plates and used glasses etc," said Ajay Jaiswal, designated officer of the department.
In Ghaziabad, the instances of substandard, fake brands of food products and violation of regulations are common. During the last financial year ( 2016-17), 152 of nearly 568 samples taken from different vendors and establishments failed the required tests. Officials said that majority of samples were either related to food products found substandard or misbranded. A total of 27 of these were found unsafe for consumption.
The instances of unsafe category cases are sent to the judicial court where the violators can also get life imprisonment. The cases of misbranded and substandard products are put on trial before executive courts and carry a penalty up to Rs 5 lakh.
"Vendors and establishments often cheat consumers when it comes to food. In this context, we have also decided to hold awareness camps at 15 schools where students will be trained to check regular items of consumption which they can also test at home without any special reagents," Jaiswal said.
The items for which testing training will be provided include milk, oils and fats, spices, sugar confectionery and food grains. During the drive on Wednesday, the department provided free head masks and gloves to vendors and also showed them how to offer food to customers in a hygienic manner .