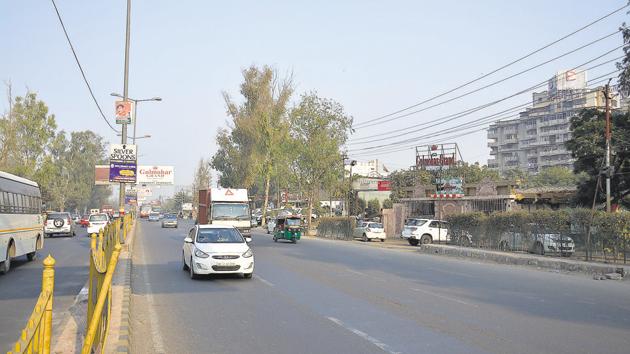 Ghaziabad authority to initiate anti-encroachment drive on green belts
The authority has identified permanent and temporary constructions/encroachments on the green belts
PUBLISHED ON DEC 27, 2016 12:10 AM IST
The Ghaziabad Development Authority (GDA) has prepared a work plan for the removal of permanent and temporary constructions on six major green belts in the city.
The plan has been sent to the Uttar Pradesh chief secretary, who will submit it before the National Green Tribunal (NGT) in compliance with the tribunal's directions.
The authority has identified permanent and temporary constructions/encroachments on the green belts maintained by the GDA and also on those owned by private parties.
The green belts include those on Link Road to NH-24, Lal Kuan to Adhyatmik Nagar on NH-24, Dasna to Upper Ganga Canal on NH-24, Pasonda to Sikandarpur, Morti to Murad Nagar on NH-58 and Meerut Road tri-junction to GT Road.
"Under the plan, demolition orders have been issued. We will start our demolition drive from Tuesday and finish by December 31 on green belts owned and maintained by the authority. For the encroachments on green belts owned by private parties, the demolitions will be executed till February 15. Notices have been served to erring parties after a survey was conducted," said Dayanand Prasad, officer on special duty, GDA.
In its survey, the authority served notices in 24 cases of permanent constructions on its own green belts. On the land owned by private parties, notices were served in 680 violations.
Enforcement officials said that the nature of permanent constructions includes shops, houses, boundary walls, parking, garages, religious places and even banquet halls constructed in violation of zoning regulations of the Master Plan 2021. There have been a total of 704 instances that were identified for violations and served notices.
"In several instances, those served notices have obtained stay orders," said an official from the enforcement department.
The exercise comes after the tribunal's September directions on a petition by the Society for Protection of Environment and Biodiversity (SPENBIO) which had approached the NGT for removal of encroachments and restoration of green belts.
"The chief secretary shall direct that appropriate action will be taken by the respective authorities, identify their role and ensure that the green belt in any part of the district is not encroached upon illegally and unauthorisedly," the NGT had said in its September 5 order.
The petitioners said that there has been considerable reduction in green belts as per present Master Plan 2021 as compared to the earlier 2001 plan.
"The encroachments were allowed and no action was taken against the offenders. Now, we are skeptical that the demolition drive will also go down the drain due to expected announcement of election code of conduct and upcoming polls. The agencies may take a plea that police force and magistrate is not available. We will still push for removal of encroachments by legal means," said Aakash Vashishtha, convener, SPENBIO.
Close