Noida clocks most e-challans in UP, residents unhappy
According to data released by the police, since the system was initiated, Noida has recorded 1,17,285 e-challans. Kanpur ranks second with 12,598 e-challans.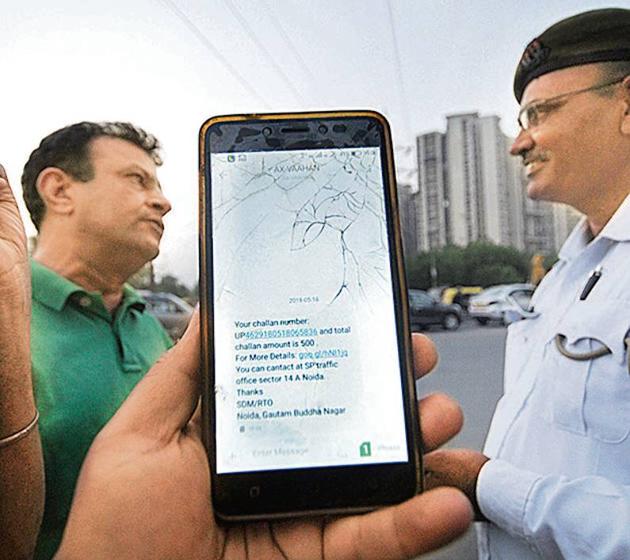 Published on Sep 22, 2018 04:09 AM IST
Hindustan Times, Noida |
Snehil Sinha
A day after the Uttar Pradesh police announced that Gautam Budh Nagar had issued the maximum e-challans for traffic violations in the state, residents questioned the efficacy of the system and why it had not helped in controlling unruly auto and e-rickshaws.
According to data released by the police, since the system was initiated, Noida has recorded 1,17,285 e-challans. Kanpur ranks second with 12,598 e-challans, which is just about 10% of that in Noida. Lucknow ranks third with 8,986 e-challans, followed by Ghaziabad, Bareilly, Saharanpur, Budaun and Muzaffarnagar.
However, a police personnel's tiff with a resident regarding parking outside the Metro station raised concerns over the efficacy of the e-challan system. The resident was fined while he was waiting to pick someone from the Sector 16 Metro station. He complained that while he had just stopped for a brief while, other autorickshaws and e-rickshaws blocking most of the road space were neither penalised nor asked to get in line.
"The policeman asked me to use the Metro paid parking if I had to wait. Why should I park inside if there is no waiting area around the Metro? Why is there no action against the autorickshaws that block the entire road?" K Arunachalam, a resident of Sector 22, said, after he got a fine.
Several residents took to social media to share their experiences, asking why commercial vehicles like autos were not fined and how residents could be kept informed in case addresses change. Residents also posted pictures of autorickshaws and e-rickshaws blocking roads or driving on the wrong side of the roads in Noida.
"There are lakhs of e-challans but the reality is that most people are unaware that they have been penalised and a physical copy of the fine never reach them in case they keep changing addresses. This just makes the system ineffective and flawed," Amit Gupta, a resident of Sector 77, said.
Traffic police personnel said e-challans were issued for all kinds of vehicles; more so for autorickshaws flouting norms. Additionally, this could not be taken as an excuse by residents to not follow rules.
"Parking on the road is not allowed, but we do let vehicles stop briefly around Metro stations to pick up and drop persons. We penalise all vehicles, cars and autos alike, if they are not following traffic rules. People can't claim that they should be allowed to break rules, as auto drivers or someone else is also doing so," Anil Kumar Jha, superintendent of police (traffic), said.
He added that there have also been several instances of attacks on policemen due to the e-challaning drive and the consequent seizure of commercial vehicles. In many cases, people refuse to provide mobile phone numbers so that the e-challan is not sent to them.
"On Thursday, an e-rickshaw drove over a traffic policeman's foot when the driver was stopped for driving on the wrong side of the road. A few days ago, two policemen were stopped by a group of auto drivers and were told to leave the area. They had to leave for fear of their lives. Later, we sent a team to seize 22 vehicles," Jha said.
Close Story