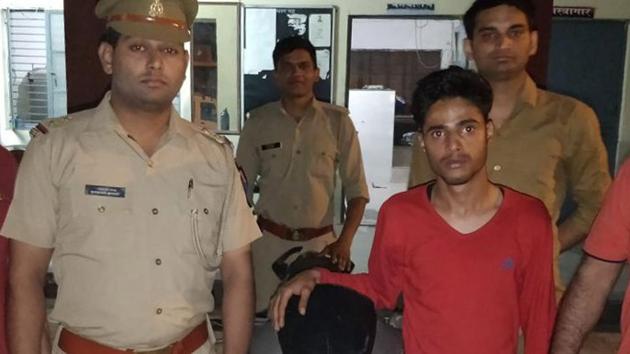 Wanted man held after encounter in G Noida
Shivam, of Dadri, Gautam Budh Nagar, was wanted for over a year and there was a reward of Rs25,000 on his arrest.
PUBLISHED ON APR 04, 2018 09:04 PM IST
The police arrested a 23-year-old man, Shivam alias Ramdev, wanted in connection with an attempted murder and vehicle thefts in Delhi-NCR, following a gunbattle near Junpat roundabout in Greater Noida.
Shivam, of Dadri, Gautam Budh Nagar, was wanted for over a year and there was a reward of Rs25,000 on his arrest.
The incident took place around 8.30pm on Tuesday. A team of Surajpur police and Noida criminal intelligence wing nabbed Shivam, who was on a motorcycle with an accomplice, identified as Rinku Punjabi.
"Shivam was wanted for one year in an attempt to murder case and a reward of Rs25,000 was put on him. Around 8pm, we received a tip-off that Shivam, along with Rinku Punjabi, is near Junpat village. Two teams were immediately dispatched to nab the duo. Upon reaching the spot, Shivam opened fire at the police team and the police fired in retaliation, injuring the duo. However, Punjabi managed to escape," Sanjeev Kumar, inspector, crime intelligence wing, crime branch, Noida, said.
The police said Shivam and Punjabi are members of Sachin Nai-led vehicle lifting gang, which is operational in Delhi-NCR. Nai was recently arrested by the Noida police.
According to the police, Shivam was wanted in an attempted murder case and multiple cases of vehicle theft.
"On July 10, 2017, Shivam and three of his friends Sachin, Sumit and Ankit, had shot one Navin Bhati, who was trying to rob them of their money at a roadside eatery in Surajpur. Bhati, a native of Tilpata, was grievously injured in the attack but he survived. It was found that Shivam had fired from a countrymade pistol on Bhati," Kumar said.
The police said that with Shivam's arrest, they are closing down on Punjabi, who has now become the leader of the Sachin Nai gang after Nai's arrest.
"Punjabi is now leading the Sachin Nai gang and has over 36 cases of vehicle theft in Uttar Pradesh, Delhi and Haryana. Rahul, Mohit and Prashant are three other members of this gang who are currently absconding along with Punjabi. In the past, we nabbed Nai and one Sumit alias Fauji, who were active members of this gang," Kumar said.
Close