Gulf crisis: Don't panic, Qatar situation is far from apocalyptic | Opinion
Jun 06, 2017 09:12 PM IST
The latest crisis in the Gulf was triggered after seven countries cut ties with Qatar, accusing it of backing terrorism.
I cannot help but feel nostalgic with Qatar being in the news. It's two years since I returned from the desert kingdom after 12 years there, but a piece of my heart still longs for the land marked by pockets of extravagant opulence and periodic tales of human misery.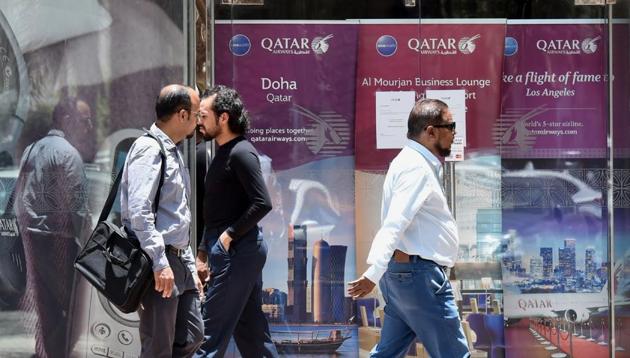 It is also the place where I gained international work exposure and a modicum of financial stability.
As memories keep flooding, I have in my prayers the many friends I have left behind in Doha. Most of them have been busy for the past day, rushing to nearby groceries and supermarkets to stock up on food, water and whatever that is necessary to survive the blockade thrust on the nation by regional neighbours, led by Saudi Arabia.
There are more than 650,000 Indians in Qatar and my friends tell me most are doing fine at the moment. No one is panicking, though all are anxious about the future.
My sense is that the situation in Qatar is far from apocalyptic. It is far from being what it was in Kuwait during the first Gulf war when tens of thousands of Indians had to be evacuated in the wake of the kingdom being invaded by Iraq.
Qatar is tiny in size and driving from one end of the country to the other along its butter-smooth highways take no more than two hours. But its might – both financial and in shaping public opinion – is unmatched in the region.
Its $335 billion sovereign wealth fund is testimony of its very deep pockets. Though one-third the size of Kerala, it's the richest country in the world with the highest GDP per capita at $129,726. Powered by huge gas reserves and a sparse population – 2.6 million of which some 90% are expatriates – Qatar faces no such economic challenges as its budget-deficit neighbour Saudi Arabia is confronted with.
Qataris are pampered with government largesse and hardly need to work. Those who work earn more than double of what more qualified expat professionals do.
Its neighbours therefore have plenty to be envious of Qatar, including its Al Jazeera media network with an ability to dictate the narrative and stoke passions in Arab streets. The channel is normally soft when it comes to covering events within Qatar, but pulls no punches while covering the rest of the region. Al Jazeera is run professionally, but its regional coverage does reflect Qatar's foreign policy.
Buoyed by its financial muscle and media outreach, Qatar has perfected the art of throwing punches much beyond its weight. Historically overshadowed by the Saudis, Qataris are driven by a blinding desire to be counted. It explains why they have a finger in almost every pie: from sheltering leaders of the Palestinian armed outfit Hamas to providing refuge to members of the Taliban. Controversies allow Qatar to flourish.
This controversy too will pass, though the concerted attempt by Saudi Arabia, Egypt and others may just leave it a bit chastised.
As for the Indian population, the crisis is a moment of some inconvenience and nothing more. Indians with blue-collar jobs earn enough to take care of themselves. Those engaged as workers and drivers are in any case ill-paid and used to hardships. In all likelihood, heavens will not fall with countries ganging up to isolate Qatar.
(The author spent more than a decade in Qatar as a journalist. Views expressed are personal. He tweets as @Rubenbanerjee)