How do ceasefire violations in Jammu and Kashmir actually happen?
Local military dynamics and the conditions under which India, Pakistan troops face each other play a significant role in provoking violence, says a new study. There are steps that governments can take to address the situation.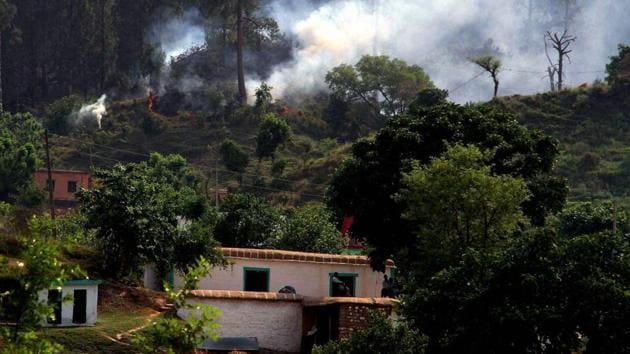 Updated on Sep 18, 2017 11:51 PM IST
Ceasefire violations between India and Pakistan along the Line of Control and the international border in Jammu and Kashmir (J&K) continue. The number of ceasefire violations till August this year are nearly as much as for all of 2016. Last week four people, including two BSF personnel, were injured at Poonch in the face of "unprovoked firing" by Pakistani troops. The ceasefire agreement of 2003, which held for over a decade, has effectively broken down.
Citizens of India and Pakistan hear a lot about ceasefire violations but have little detail on how, where and why they occur. People learn about the casualties and, sometimes, the area where violations occur but the circumstances under which they happen or the factors that precipitate them remain largely opaque. The standard Indian explanation for ceasefire violations is that they are a result of unprovoked Pakistan firing, geared to provide cover for militants infiltrating into J&K. Islamabad, in turn, "blames India for unprovoked firing targeted at the civilian population on the Pakistani side".
A new paper by Happymon Jacob, associate professor at JNU, which sheds some needed light on this poorly understood dimension of India-Pakistan relations, argues that the situation is more complex than that. The study, published by the United States Institute of Peace, draws on new data, on-field visits, and over 50 interviews with Indian and Pakistani military, para-military and foreign service officials, both serving and retired. In it Jacob argues that militant infiltration is one of the causes for ceasefire violations but "it is not—as is often claimed—one of the primary causes." There have been times when infiltration was low and ceasefire violations were high. Ceasefire violations could continue even if infiltration were to stop, he reckons, because of "local factors" on the frontlines.
As is well-known ceasefire violations generally correspond to the state of bilateral ties; the ceasefire tends to hold "during a result-oriented bilateral dialogue process" and less so when ties take a downturn. When ties are strained as they are now, there are "factors on the ground… [that] significantly and directly contribute to the violations", to the extent that many violations are "generally not planned, directed, or cleared by higher military commands or political establishments, but are instead driven by the dynamics on the frontlines".
The structural causes for border firing are several: the LoC is delineated on a map but not marked on the ground, no formal border treaty is in place for the LoC sector, the final ratification of a Ground Rules agreement is pending, joint standard operating procedures (SoPs) are inadequate. India has tried fencing and electrifying the international border and most of the LoC – but they are ineffective at places for a variety of reasons. This sort of ambiguity about where one's territory is and the lack of formalised border management protocols on the ground sets the stage for miscalculation and escalation.
Indian and Pakistani soldiers thus try and maintain area domination amid uncertain conditions, often in the midst of civilian populations (in Jammu alone there are nearly 600 villages within five kilometres of the border). Indian security forces are constantly wary of infiltration attempts, something Pakistani counterparts do not have to worry about. Small patrol parties – that are prone to ambushes – maintain vigils in four hour shifts through the night, soldiers hunker down in bunkers and live in fear of sniper attacks. Troops are mostly preoccupied with retaining ground advantage and resisting changes to status quo. According to retired Pakistan army Lieutenant General Tariq Waseem Ghazi "directions from higher chain of command…to engage in ceasefire violations may be issued to Indian or Pakistani troops for a variety of reasons, such as: to maintain dominance, to establish pressure through continuous engagement, to highlight or create disputes, to cause casualties as a matter of retribution, to show aggressive postures, or to cover and divert attention from other activities."
Ceasefire violations occur for a variety of other political and military reasons and heightened bilateral tensions only increase their likelihood. For instance, violations are known to happen when political leaders visit J&K, on days of national importance like Independence Day or whenever Pakistan finds them useful to keep the Kashmir issue alive. Local commanders on both sides may sometimes seek permission from seniors to fire in order to exact revenge for casualties. Sometimes violations occur when one side wishes to test the resolve of a new battalion posted opposite it; at other times a departing battalion "makes a parting show of strength." A new battalion may wish to assert itself from the outset and take an aggressive posture. Soldiers can also react to the environment they operate in; matters get worse when tensions are high. As a retired Pakistani general puts it, "the soldier in the forward most post is as affected by the media as the man in a city". The temperament of local commanders in both sides matters a great deal. "Violations can…be triggered by the emotional state of soldiers and commanders" in a highly tense and daunting operational environment.
The terrain creates its own complications. There is "genuine confusion" as to where the LoC lies, especially after winter snows and torrential rains. Troops sometimes move into areas claiming territory to be their own, provoking violence. Rivers create gaps in the international border fence. Rivers and streams can also change course, particularly after floods; when waters recede from the flood plains both sides may make conflicting claims on land – that can lead to violence if one side is in a vulnerable position. The absence of joint standard operating procedures on patrolling for India-Pakistan soldiers complicates matters by creating a tendency to misread troop movements and fire. Civilian movement adds to the pressure. Villagers from both sides who live close to the LoC, "especially those who have kinship ties, often cross back and forth", they also undertake farming activity, cut grass, draw water and so on, increasing the surveillance burden.
Jacob has learned from interviews that construction-related activities are "the most important cause of ceasefire violations". Both sides have agreed not to develop any "new posts and defence works along the LoC" but new construction is a regular occurrence. Construction and improvement of posts is undertaken to enhance observation capability and hold ground during a standoff. Owing to the advantages they afford, construction activity is often fired upon and hence the work is done mostly during the night.
Jacob's paper is an important contribution to the public understanding of India-Pakistan conflict. It points to how the absence of peace and heightened tensions put the lives of soldiers and civilians at risk on an everyday basis. It also shows how the absence of formalised protocols puts many in harm's way.
To address this, Jacob suggests several urgent steps. These include formalising the 2003 ceasefire, which would entail "a clear and detailed signed agreement that itemizes the attendant dos, don'ts, rules, guidelines, and principles would enable the two sides to better manage the border and significantly reduce the ad hoc nature of the current arrangements." Both countries should "take steps to finalize the India-Pakistan Ground Rules Agreement of 1961, which could help better manage the Jammu-Sialkot border." "India and Pakistan could explore the possibility of developing joint SOPs on a number of issues such as managing villagers living close to the zero line, return of inadvertent crossers, tackling movements at night, and accidental firing, among others. More pertinent, the two sides could also explore the possibility of simultaneous coordinated patrolling of small stretches of land, as is practiced along the international border in Punjab." He says "the more agreements and joint SOPs in place, the less the likelihood of ceasefire violations." India and Pakistan would also need to agree on where the "notional line" lies in Kashmir and establish rules for construction activity.
What Jacob's paper demonstrates is that political leaders can do a lot more than just point to militant infiltration. Saving the lives of soldiers and civilians involves the hard work of negotiating agreements and creating incentives for the other side to cooperate. Increasing tensions and hardening foggy conditions of war is easier but serves little purpose except to consign troops to a state of perpetual uncertainty and conflict.
Twitter: @SushilAaron
(The views expressed by the author are personal)
Close Story
Personalise your news feed. Follow trending topics