How we the people are responsible for the spread of the virus
Mar 11, 2021 06:42 AM IST
Can the authorities who are serious about supporting the vaccination roll-out with a compliance roll-in, consider three urgent suggestions?
The virus has moved in Delhi from "pandemic" to "endemic", says Delhi's health minister. And I have heard a senior virologist say exactly that about the country. They may well be right. But what matters is that the virus is still very much around, and we are as responsible for it being so as the virus itself is.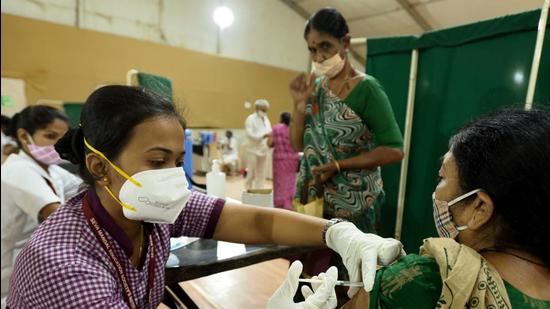 We?
Yes, we. And that includes just about everyone except health workers who have been given but a small token of our appreciation by being made the first to be vaccinated. And even there, we want them to be protected because we want them to continue to protect us.
And the 'we' starts with our political class. As they bared their upper arms for the jabs before cameras, did all our leaders wear masks? Alas, not all of them. Our vice-president, M Venkaiah Naidu, and external affairs minister, S Jaishankar, did.
They wore masks, correctly, admirably, over mouth and nose as the needle went in. And they sent two clear messages across — wear masks, get vaccinated. There may well have been others like them who did. But not all our other leaders did so. It is not as if the nation would have failed to recognise them, masked. And why could the officials on duty not have whispered just two words to them, "Sir, mask…"
And now, with elections, leaders are going to be needed to campaign. They will need crowds. Where does social distancing go? A great responsibility rests on leaders and their compliance to health protocols during elections. But our leaders are only what we or the majority of us are. Put differently, what we are, our leaders are.
And what are "we" doing?
We have to but step outdoors to see us as we always are — mixing, milling about in clusters and crowds, holding hands, eating, chewing, spitting, with the gentlemen among us secure in the belief that incontinence is integral to the Indian male's vested rights. All this, let us recognise, is not a class matter. The well-to-do in malls and cinema houses galumph around like elephants in musth, maskless, careless, shameless. Travelling by air, the "business class" is no model of compliance. Small wonder that the virus thrives.
Can the authorities who are serious about supporting the vaccination roll-out with a compliance roll-in, consider three urgent suggestions?
First, about masks. Let the non-wearing of masks be visited with condign fines on the spot. This is not difficult to do in places of public concourse, on trains, in buses, in cinema houses, shopping plazas, with a "virus police" on duty. Mumbai has started, late, perhaps, but it has. Other cities must follow suit.
Second, about elections. Let the vaccination drive be opened immediately to all registered voters in poll-bound regions straightaway, irrespective of the age and co-morbidity criteria. And let no political campaigner do any campaigning, whether as a speaker at rallies or otherwise, unvaccinated. And let all poll personnel, including security forces, report for duty only after being vaccinated.
Third, about farmers. The spike in parts of north India, including Punjab, may be because of many reasons, pandemic, endemic or other. But common sense tells us that the prolonged farm protests, with groups of protesters moving back and forth from their villages to the rallies, are both at risk and unwittingly, innocently, risk-enlarging.
As a health measure first and last, let the government announce the revocation of the three farm bills and a reconsideration of their provisions by the Inter-State Council (ISC) with farm leaders being heard at it, after the majority of the nation has been vaccinated and the number of new cases has been brought down to, and kept at, negligible figures. And let farm leaders agree to this arrangement, disband the protest, again as a gesture to health concerns, for a later engagement on the contentious issues at the ISC in a post-Covid-19 situation.
If these steps are taken, the virus can be more swiftly brought under control. If they are not taken, the vaccines and their amazing creators and disseminators would have been weakened by us.
Gopalkrishna Gandhi is a former administrator, diplomat and governor
The views expressed are personal