In Myanmar, Delhi adopts a cautious stance with junta
Jan 31, 2023 07:31 PM IST
In context of the second anniversary of Myanmar's February 2021 coup, it is important to keep this history in mind when making sense of India's handling of the coup's after-effects.
January 1962 was ending and Jawaharlal Nehru was livid. Airstrikes against Naga rebels near the India-Burma border in September 1960 — the first use of airpower in the history of Independent India for counter-insurgency purposes — had pushed the latter into erstwhile Burma. But with increased military clashes along the Sino-Indian border, Nehru felt the need to quickly address the Naga issue. Could U Nu, Burma's prime minister, allow a 3-5-mile horizontal cross-border corridor wherein the Indian Army, backed by airpower, could conduct combing and bombing operations? All that was needed for Burmese troops in this area was to be "alert and inactive". Rangoon agreed, and by March 1962, the area was cleared, with most Naga rebels either dying or escaping to then East Pakistan.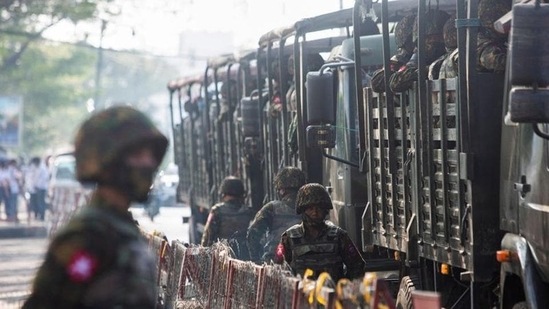 Sixty years later, and in context of the second anniversary of Myanmar's February 2021 coup, it is important to keep this history in mind when making sense of India's handling of the coup's after-effects. New Delhi has continued formal engagement with the junta, been cautious about being, or seen as being, excited about its access with Senior General Min Aung Hlaing, effectively a drug lord keeping his flock together using fear and favour. India has refused formal engagement with the resisting National Unity Government (NUG) that retains some measure of popular legitimacy, is still aspiring for a federal democratic union, and enjoys significant international and domestic political (if not military) support.
Such a conservative approach has sparked criticism from a section of people in Myanmar who view India as a junta enabler, and others who argue that the logic of India's conservatism is not bearing strategic fruit given China and Russia's ingress in Naypyidaw. Lack of progress on the Kaladan road-to-port project that connects Mizoram to Rakhine state, despite recent attempts to re-energise it, underscores such difficulties. New Delhi's muted concern on reports that Myanmar military's fighter jets dropped bombs on Indian territory on January 11-12, while targeting the Camp Victoria, headquarters of the NUG-allied Chin National Front (CNF), only reaffirms such conservatism.
Why is this the case? For starters, India's own cross-border operations inside Myanmar, like in 1962 or in 2015, makes it tough to be too territorially prickly with Naypyidaw. But the overall calculation is that the junta is far from collapsing, and the resistance far from united. In consequence, India can't afford to lose access to Naypyidaw, which requires limited overt outreach to the NUG. The unstated aspect of this strategy is that it is defensive in nature, even though the rhetoric around it is ambitious, ie, India needs eyes and ears in Naypyidaw to prevent serious harm to its strategic interests, more than building a road to an economically unviable Sittwe port, or even roll back China's footprint in Myanmar.
More than focusing on India's engagement with the junta, which will remain till the time the regime stands, it's essential to interrogate the assumptions that guide it. Is the regime united and in control? Two years since the coup, one thing is clear ie, Min Aung Hlaing has the support of his corps commanders and deputies to mete out as much violence as needed to retain an upper hand in a grinding civil war. Enmeshed in the Golden Triangle's drug trade, the junta also has enough liquidity to ensure procurement of weapons from a heavily sanctioned Russia and an economically challenged Pakistan, even if Chinese JF-17s don't fly. Such capacities offer Naypyidaw relative longevity even if its writ remains challenged, and legitimacy among citizens heavily compromised.
The debate on whether the junta is losing the civil war, then, becomes moot. Because Min Aung Hlaing is not fighting to win. He's fighting to not lose for as long as possible in the hope that the resistance will collapse under the weight of its own contradictions. Even the forthcoming farcical junta-monitored elections are not meant to demonstrate democratic legitimacy. They're meant to sow discord within the NUG and its domestic allies. For India that is struggling to deal with China's revisionism in Ladakh, turbulence in Bangladesh, dislocation in Nepal, claw back influence in Sri Lanka, manage Pakistan's impending economic collapse, and witnessing the Association of Southeast Asian Nations (Asean)'s impotence on Myanmar, ensuring a degree of amity with Naypyidaw makes sense.
But none of this means that India should, or has, shut the door on the resistance. With support of the Mizoram government and its allies in New Delhi, the CNF enjoys considerable cross-border mobility and inflicts damage on the junta in Chin state. In Rakhine, Indian intelligence secretly engages with the Arakan Army to keep its options open, despite a history of mistrust and a crushing junta-imposed blockade. The specifics of such interactions remain opaque, but there is a revisionist undercurrent in India's approach that often doesn't meet the eye and could enable a sudden policy shift if and when the junta ever nears collapse.
Though unwilling to deliberately tilt the power balance against the junta, or let external powers do it through its territory, India's Myanmar policy — maybe not always be reflective in official statements — indicates a sense of respect for the resistance that has demonstrated remarkable resilience in the face of the junta's indiscriminate violence despite internal factionalism. If such trends continue in the third year of the coup, there could well come a moment when fissures within the junta become significant enough to recalibrate the scale and scope of India's engagement with the NUG.
Avinash Paliwal teaches at SOAS University of London and is the author of My Enemy's Enemy: India in Afghanistan from the Soviet Invasion to the US Withdrawal (New York: Oxford University Press, 2017) The views expressed are personal
Enjoy unlimited digital access with HT Premium
Subscribe Now to continue reading
Topics