Just in case anyone's forgotten, all tennis greats are not men
Not to take anything away from the greatness of Roger Federer; but we do seem to celebrate the achievements of men so much more than those of women.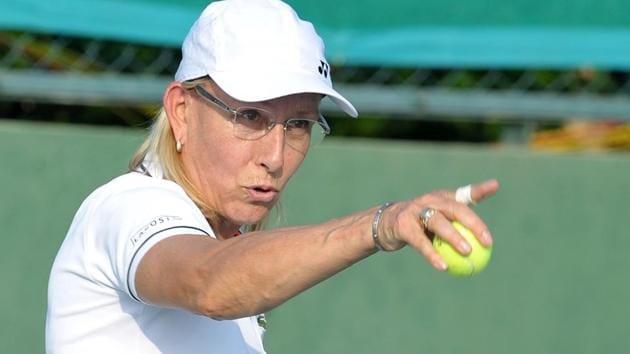 Updated on Jul 18, 2017 12:54 PM IST
First, a confession. I am an absolute Roger Federer fangirl. I have been known to go into paroxysms of joy at that glorious forehand and rave about how he always looks like he's gliding an inch above the grass at Centre Court. In short, I think he's definitely one of the GOATs (Greatest of All Time) of the great game of tennis.
And there are numbers to substantiate his GOAT-ness. Federer has 19 singles Grand Slam titles to his name. Even more than that other GOAT of our times Rafael Nadal, of La Decima fame, with 15. This is aside from all those other records – reached a record 29 Grand Slam finals, has been on top of the rankings for the longest number of consecutive weeks... this list is very long.
But here's the thing. Margaret Court has 24 singles Grand Slam titles. Serena Williams has 23, Steffi Graf 22, Helen Wills 19. And the GOAT to beat all GOATs – Martina Navratilova has 18 (a tie with her great rival Chris Evert). Navratilova also has a total of 56 grand slam titles including her doubles and mixed doubles wins.
And yet, somehow, we seem to celebrate the achievements of the men so much more than those of these very great women.
This invisibilisation of women – even in the rare mainstream sport that stands out as one where the women's game is not a poor cousin of the men's – was seen as recently as this Wimbledon, where a journalist asked Andy Murray for his thoughts on the fact that Sam Querry had become "the first American to reach a Grand Slam semi-final since 2009" conveniently forgetting that Serena Williams has won 12 Grand Slam tournaments since 2009. For his part, Murray immediately called out the casual sexism by pointing out to the journalist in question that Querry was only the first male, not the first American to have achieved this feat.
The fact that Murray had to remind the journalist of this important fact halfway through 2017 is a testament to the fact that any gender equality is still some distance away.
There seems to an argument that since women only play a 'best of three sets' match as opposed to men who play best of five; their achievements (and indeed their prize money) are somehow less worthy of celebration, less remarkable, and less significant. Their records, their games are all simply, less important.
This argument is disingenuous. Primarily because several women players have gone on record to say that they are willing to play five sets (or as Serena Williams put it, "best of five, best of seven, whatever"); while others have advocated that men play three sets in grand slams too (like they do in most other tournaments).
The reason men and women play a different number of sets is because tournament organisers are unwilling to change their schedules and traditions to fit in longer matches. The assumption that men's matches are more popular than women's (in spite of several examples to the contrary) are also a reason for this resistance to change.
A day after Roger Federer won a "record breaking" 8th Wimbledon title, a shout out to Martina Navratilova, who has won 9 Wimbledon singles titles, 7 doubles titles, and 4 mixed doubles titles. As we rave about how well Federer's playing at the age of 36, let us also remember that Navratilova won her last mixed doubles Wimbledon title at the age of 47, in 2003.
Close Story