Sort out granular issues to bolster India-US ties
Manjari Chatterjee Miller
Jan 30, 2023 08:17 AM IST
For several decades, experts have been talking about the US-India relationship deepening without having much concrete evidence to show this to be the case. However, that tide seems to finally be turning
As we begin 2023, it is evident that the current United States (US)-India bilateral relationship is not the relationship that existed between the two countries a decade ago, nor is it even the relationship from five years ago. Instead, this strategic partnership is on a trajectory few would have expected at the beginning of the 2000s, with cooperation expanding across sectors and many trust-building measures in place. However, this does not mean the two are on the same page on all strategic priorities. So, what are the issues affecting the relationship that are of interest to the US this year? Here are some of the most important.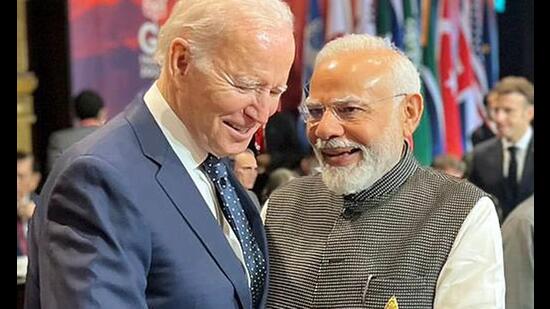 First, the Ukraine war is playing a huge role in the US's strategic calculations. The Biden administration's National Security Strategy states that the US's most-pressing challenge is posed by countries that "layer authoritarian governance with a revisionist foreign policy". There is little doubt that Russia, one of the US's two major power rivals, is a "most-pressing challenge". The prolonged war has depleted Russia's conventional military strength, but it is still a nuclear power with unconventional capabilities. While the amount and type of aid to Ukraine have been up for debate in Washington DC, it would be hard to overstate the depth of bipartisan American mistrust of Russia and President Vladimir Putin.
Given this backdrop, the US worries about the India-Russia relationship, especially that India's reliance on Russian military imports will continue. The US hopes that as its own defence cooperation with India expands, New Delhi will see it as a reliable partner. Last year, Prime Minister Narendra Modi's seeming rebuke of President Putin on the sidelines of the Shanghai Cooperation Organisation (SCO) was taken as a welcome sign that the India-Russia relationship was changing. This year, the Biden administration may look for other more tangible indications, particularly as India's oil imports from Russia have displaced Iraq as its top supplier.
China — another hugely pressing challenge for the US — is also an important factor in the US-India bilateral ties. Last week, the US State Department's East Asia consultations revealed much common ground on China. This is unsurprising. The US-China relationship is perhaps at its lowest point in two decades. Meanwhile, the December 2022 border clashes between China and India, and Beijing's tone-deafness about New Delhi's concerns, means that the China-India relationship continues to be plagued by mistrust, with little sign of resolution.
Consequently, the US and India share an interest in New Delhi strengthening its deterrence capacity towards Beijing on the border and in the Indian Ocean. The US is aware that India wants to avoid being drawn closer into the US-China strategic competition but remains worried about Taiwan and the lessons it believes China is drawing from the Ukraine war. Therefore, the question of India's position should an escalation occur in the Taiwan Strait, and whether Indian officials have planned for such a scenario, remains pertinent.
The US also pays close attention to India's leadership in multilateral forums, such as the G20 and the SCO. India can use its leadership positions in both this year to act as a bridge between the West and developing nations. The US would like to support India in this endeavour and draw it into more multilateral agreements. But it is also watching how India manages its relationships within these institutions, especially its dealings with Russia. India played a constructive role in the G20 Bali summit in 2022, including crafting the statement. The US hopes India's management of Russia in the G20 will not be akin to business as usual.
There are also more granular issues, for example, in the trade and technology relationships. On the one hand, US-India trade is at an all-time high. In 2022, trade stood at almost $120 billion, and the US was India's largest trading partner. On the other hand, the US is concerned about India's turn towards protectionism. As trade specialist Inu Manak and I argued in a previous column, there are problems in the trade relationship that have been obscured by US-India cooperation on security. India, for example, makes up only 2% of the US's merchandise trade due to policies that protect domestic industry from foreign competition.
Technology cooperation between the two countries has also rapidly expanded as both increasingly prioritise it. Many US semiconductor industries, a crucial part of both countries' strategic agendas, have begun investing in India. Such industries require India to pay attention to, for example, the domestic electricity and water supply infrastructure, which is crucial for production, as well as the reform of customs procedures, which can hamper the movement of products and disrupt supply chains.
Finally, despite being aware of India's sensitivity to matters of domestic politics, the US is concerned about the state of Indian democracy. Many members of Congress and officials in the Biden administration are following reports on civil liberties and minority rights in India. Furthermore, questions are being raised surrounding data protection in India and what the implications are vis-à-vis surveillance and censorship. While the Biden administration is unlikely to raise any public questions or criticisms, members of Congress may not have any such inhibitions.
Washington is hugely optimistic about the relationship, and sees India as one of its most valuable partners. For several decades, experts have been talking about the US-India relationship deepening without having much concrete evidence to show this to be the case. However, that tide seems to finally be turning.
Manjari Chatterjee Miller is senior fellow, Council of Foreign Relations, and associate professor, International Relations, Boston University The views expressed are personal
Enjoy unlimited digital access with HT Premium
Subscribe Now to continue reading