UGC's archaic rules will destroy potential 'world class' universities like JNU
Mar 28, 2017 09:54 PM IST
The current M.Phil/PhD admission guidelines have practically stopped all new research admissions in JNU for the next few years, particularly in social sciences, international studies, languages (including Sanskrit), law and governance, biotechnology etc
For some time, the Modi government has been talking about facilitating 20 'world class' academic institutions in India. In his 2016 budget speech, finance Minister Arun Jaitley had announced that "an enabling regulatory architecture will be provided to ten public and ten private institutions to emerge as world-class Teaching and Research Institutions". Last year, the University Grant Commission (UGC) came out with draft guidelines on World Class Institution (WCI). Recently the UGC has approved these guidelines with changes (including renaming them as institutes of eminence) for Cabinet approval.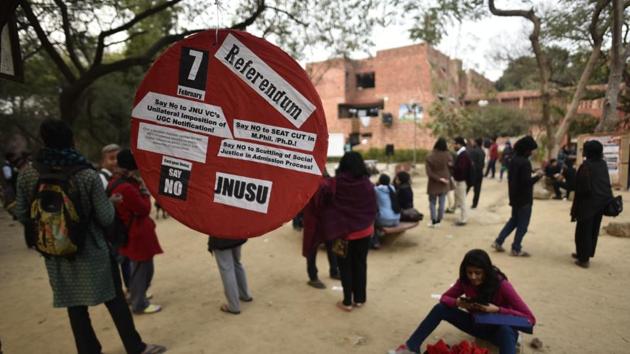 Draft guidelines and various reports have indicated that the core difference between the so-called WCI and normal universities in India will be that these 20 institutions will enjoy much more autonomy than existing universities and academic institutions. They will be free to fix their own fees for foreign students (which could be up to 30% of the total strength), salary of foreign faculty as well as freedom to choose admission procedure, course structure, course duration etc. Any public university seeking this tag also must be among the top 25 in the National Institution Ranking Framework (NIRF).
As per draft guidelines, the potential WCI will have to be a multidisciplinary institution, focusing on teaching and research; a good proportion of foreign or foreign educated faculty; focusing on development concerns, merit based admissions, faculty-student ration of 1:10, good infrastructure and large owned campus, international collaborations, good publication record, etc.
The basic philosophy behind this move has been that the existing regulatory structure from the institutions likes the UGC, All India Council for Technical Education (AICTE), etc. do not for a allow fully autonomous environment for many Indian universities to become 'world class'.
With the highest National Assessment and Accreditation Council (NAAC) score, best central university award by the President, and number three ranking in the NIRF, the Jawaharlal Nehru University (JNU) definitely has the potential to become 'world class'. But even with the government's own philosophy, this will only happen if institutions like JNU are given greater autonomy in their admission and other procedures.
The government is correctly planning to create WCI with minimal State institutional interference. This broadly fits within the Modi government's philosophy of 'minimum government and maximum governance'. However, existing institutions like the UGC, whose own future is uncertain, keep issuing one-size-fits-all regulations. The current M.Phil/PhD admission guidelines have practically stopped all new research admissions in JNU for the next few years, particularly in social sciences, international studies, languages (including Sanskrit), law and governance, biotechnology etc.
In JNU, with the existing faculty strength of 565 and about 5,000 research scholars, this means each faculty on an average is guiding close to nine researchers. For a mainly research-oriented university, this is not a terribly bad situation.
There may be some professors with more than average numbers, which can be taken care of with the existing 300 vacancies. But we must understand that research supervisors are allocated on the basis of specialisation rather than academic hierarchies as the UGC guidelines dictate.
As per the UGC, a young assistant professor can only guide half the number of students than a professor even if she/he has a specialisation in an exciting new research area.
These are the regulations, which the government must do away with, if there is any plan to make Indian academic institutions 'world class'.
Gulshan Sachdeva is Jean Monnet chair and professor at the School of International Studies, JNU
The views expressed are personal