What Nepal elections mean for South Asia
Dec 11, 2022 08:27 PM IST
A new government will likely see continuity in Nepal's ties with its neighbours. With India assuming the G20 presidency and Delhi's push for diplomacy in non-traditional spheres, the time is ripe to push regional ties beyond the existing areas
Nepal's next government is beginning to take shape. The Nepali Congress (NC) under incumbent Prime Minister (PM) Sher Bahadur Deuba has emerged as the largest party (89 seats), but his five-party ruling coalition fell two short of a majority with 136 seats in the 275-member parliament. The largest opposition party, Communist Party of Nepal, Unified Marxist Leninist (CPN-UML), has 78 seats.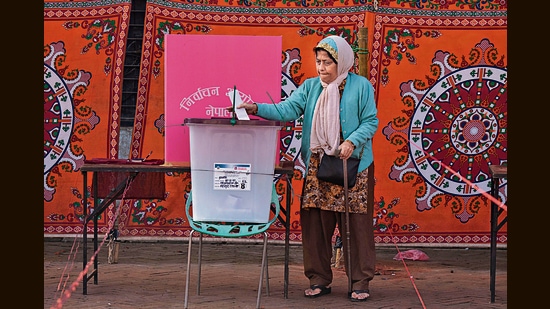 What is clear from these elections is that the Nepali voter is exhausted by governance malpractices of traditional parties such as the NC and the CPN-UML. This was evident in the enthusiasm with which Nepalis voted for candidates from the Rashtriya Swatantra Party (RSP), a six-month-old right-of-centre outfit that promises clean governance, and won 20 seats. Second, the biggest losers in these elections are the Maoists and the traditional Madhesi parties such as the Janata Samajwadi Party (JSP) and the Loktantrik Samajwadi Party (LSP), who have faced a massive decline in both vote share and seats. Once the champions of the federal republican agenda, these parties are now seen as opportunists who've wasted the gains since 2008.
Third, the weak performance of the Maoists — who were part of the ruling coalition's electoral alliance — means NC president Deuba has less of a challenge within the coalition in claiming the PM's seat for the sixth time. But that does not mean all is hunky-dory within the NC, which is split vertically between the camps of Deuba and rival leaders such as Shekhar Koirala and Gagan Thapa.
A new government under the ruling coalition will likely see continuity in Nepal's ties with its neighbours. With Maoist chair Pushpa Kamal Dahal Prachanda's bargaining power reduced and a low possibility of another Communist alliance between the Maoists and the CPM-UML, the power equations in Kathmandu are currently more inclined towards Delhi. What has also helped India is a broader focus on expanding economic connectivity and cultural ties in Prime Minister Narendra Modi's second term. New initiatives are visible in both realms. For example, Nepal's decision to hand over hydropower projects such as the long-delayed 750 MW West Seti to NHPC Limited — which was once awarded to China's Three Gorges International Corporation — is being seen as another way to deepen economic ties, especially coming on the back of both Nepal and Bangladesh's request to India for a trilateral power trade agreement that will allow Kathmandu to sell power to Dhaka, using Indian transmission lines. Within a year, Nepal has sold power worth NPR 10 billion to India, a figure that will grow in the years to come.
In the cultural sphere, Delhi has centred on Janakpur, where the Bharat Gaurav tourist train brings pilgrims on the Ramayan Circuit tour. The Rakhi Diplomacy initiated by Deuba's wife, Arzu Rana Deuba, seems to be paying off for both the NC and Deuba, who has looked to the Bharatiya Janata Party (BJP) to negate the expansion of ties between the Chinese Communist Party and Nepal's communists.
However, anxieties remain, primarily arising out of differing perceptions in the existing dispute on the Kalapani border region and border management. While the dispute is backed by intractable positions on both sides and has become a perpetual thorn in bilateral ties, localised border disputes such as the recent protests by Nepalis at Darchula over India's construction of embankments on the Mahakali river may snowball into a larger issue of Nepali nationalism, as seen in RSP chair and former TV anchor Rabi Lamichhane's statement that "this generation will not suffer continuous helplessness" in bilateral ties.
India's decision not to buy power from projects built or promoted by China has worried Nepali private sector developers. But what must be music to Delhi's ears is Nepal's recent prudence in dealing with China. While its political influence on Nepali Communists has been evident, Deuba's message that Kathmandu cannot afford to take any loans has also dampened the enthusiasm around the Belt and Road Initiative.
The unexpected defeat of several former PM KP Oli's advisers and Prachanda's weakened legislative presence mean the Communists will have less influence in the parliament than in previous years. Deuba also invested his political capital behind pushing the Millennium Challenge Corporation agreement with the United States, work on which has already begun. While the new Chinese ambassador has yet to assume office in Kathmandu, Beijing will have to recalibrate its position in Nepal again.
But that does not mean India can take it easy in Nepal. A new polity is taking shape in the country, fuelled by a young population whose memories of the 2015 blockade are clearer than that of the civil war and the subsequent peace process. The RSP's success can be attributed to this demographic's frustration with traditional parties. Moreover, incidents such as the Darchula protests, and the protracted Kalapani dispute, will continue to give rise to anti-Indian currents and create space for new faces to establish themselves.
With India assuming the G20 presidency and Delhi's push for diplomacy in non-traditional spheres such as digital public infrastructure, the time is ripe to push regional ties beyond the existing areas. For Nepal, G20 working groups on disaster risk resilience and reduction, climate sustainability, tourism and energy transitions will all be relevant for future partnerships. Broadening areas of engagement and cooperation should be accorded top priority.
Amish Raj Mulmi is an editor, commentator, and author of All Roads Lead North: Nepal's Turn to ChinaThe views expressed are personal
Get a colourful deal with 70% off on HT Premium annual plans
Enjoy Unlimited Digital Access with HT Premium