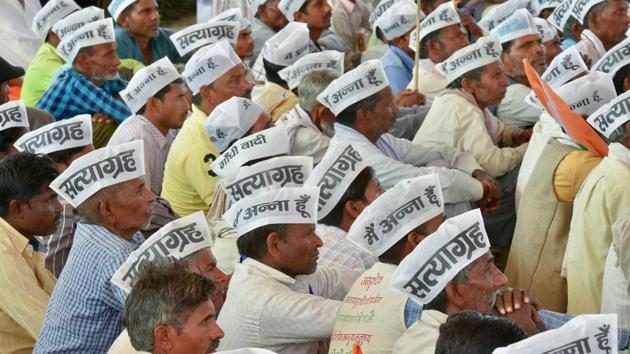 Why Anna Hazare continues to matter
Thanks to him, the voice of the farmers has reached the highest quarter
By Shashi Shekhar
UPDATED ON APR 02, 2018 12:02 PM IST
The Anna Hazare entourage has moved out of Delhi's Ramlila Maidan once again. With him hundreds of farmers have also returned to their respective villages where poverty, hardships and the hot weather await them. Has Anna been unsuccessful in achieving his objective once again? Before you ponder over this, listen to this poignant story.
My name is Bir Singh and I stay in a village in Haryana's Palwal district. I own four hectares of land. My three sons make a living as labourers and don't stay with me. I toiled in the fields throughout my life but couldn't afford to give my sons an education. With the passage of time my debt increased to Rs 4 lakh. I took half of this from a bank and the rest from a moneylender. Demanding the repayment of his loan, his men often insult me in public places. I am hesitant to even wear an inexpensive shirt or buy a new pair of shoes. I am anxious all the time. I don't know whether I am alive or slowly being killed. My wife has developed an eye condition. In the absence of cooking gas at home she has to cook on a chulha. When I visited the SDM to ask for cooking gas, he chased me away. I don't know whom to approach. Nobody is ready to listen to me. It is better to die than live like this. I feel like dying every day. When I heard about Anna, I came here. It's better to die here than anywhere else.
I have tried to reproduce what Bir Singh said in his quavering voice and incoherent manner of speaking. It is true that Anna's fast didn't attract big crowds this time. But those who came, people such as Bir Singh, were those caught in the dark cycle of misfortune. They were seeing a saviour in Anna Hazare. This was the big difference in Anna's fast at the Ramlila Maidan the last time and now.
What took place last time was an organised affair. Anna was merely one of its characters. Every organised event hides some inherent personal goals. The organisers were successful in realising them. Arvind Kejriwal is Delhi's chief minister today and his closest ally in that provocative period, Manish Sisodia, is the deputy chief minister. Kiran Bedi, who broke into an impromptu dance on the podium, is today the lieutenant governor of Puducherry. General VK Singh, who had just retired from the army at that time, is today minister of state for external affairs. Even if everybody in this quartet was busy in 'public service' and could not attend Anna's fast in person, they could have at least put out a single tweet. But they didn't even do that. That's politics for you.
Had Anna realised this truth in time, he wouldn't have been showered with all kinds of awkward questions. But he is really headstrong. He sat on a fast at the same venue once again. This is the big difference between an Anshan and an Aandolan. If you have your doubts, a careful examination of both events at Ramlila Maidan will help you get a clearer perspective. You may love him or hate him, but a lifetime of public life is testimony to Anna's impartial and objective politics. He sat on a fast at least six times before this with an unwavering focus on issues related to agriculture and farmers. Of course, everybody realises that the nation's attention needs to be drawn to farmers' issues.
Bir Singh and millions of peasants like him don't lose hope in the face of adversity. If it means walking hundreds of kilometres to Mumbai, they do it. They walk barefoot, are short on rations and their feet full of blisters but they continue to walk in a disciplined manner. They knew that students in Mumbai had exams the next day. To ensure that they didn't inconvenience them, the farmers slept in the open. They didn't lose their patience even when they entered the metropolis. The government gave them an assurance and they returned after setting a deadline. Before this, you may have seen farmers from Tamil Nadu return after launching a similar agitation in New Delhi. Until when will we keep testing their patience and sensibilities?
Through the medium of Anna Hazare, the voice of the farmers has reached the nation's highest quarters. Most of the assurances given by the government can be fulfilled. Many chief ministers and the prime minister have made similar promises on many occasions. Not just this, Anna also took this opportunity to discuss the Jan Lokpal issue buried under a pile of promises. Will he manage to realise this stubborn dream? Or, will he come back to Ramlila Maidan once again?
Shashi Shekhar is editor-in-chief, Hindustan
letters@hindustantimes.com
Close