Why it's time India had a sex offender registry
Mar 22, 2018 12:54 PM IST
Even after the Pocso Act came into force, there is still a lot that needs to be done to curb child sex abuse. To aid investigations, the concept of a sex offender registry merits further consideration
The statistical information around increasing incidence of child sexual abuse in India is a sobering reminder of why we need radical changes to counter this. According to government figures released in December 2017, a child is sexually abused every 15 minutes.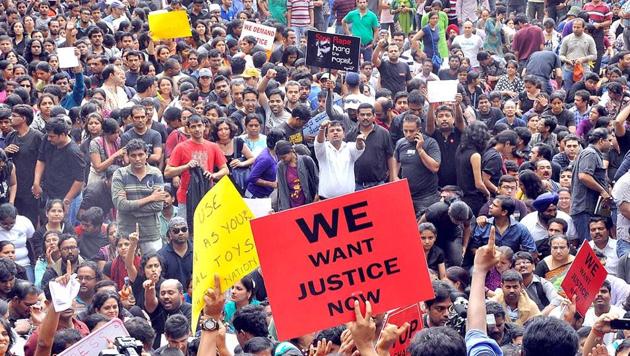 This suggests that there are gaping holes in the existing laws for the prevention of such abuse. As a result, thousands of victims suffer a range of traumatic psychological and physiological disorders every year. Recent reports of the government mulling the possibility of lifting the time bar on reporting child sexual abuse show that these gaps are now gaining more attention.
With one-fifth of the world's children, India holds the dubious distinction of having the largest number of child sexual abuse cases being registered in the world. Yet, this subject is under-researched and remains obscured by stigma and taboos.
Until the Protection of Children from Sexual Offences Act (Pocso Act) 2012, child sexual abuse was not even acknowledged as a separate criminal offence. Rape was the main, if not the only, specific sexual offence against children recognised by law. In the absence of specific legislation, a range of offensive behaviour, such as child sexual assault (not amounting to rape), harassment, and exploitation for pornography were never legally condemned.
Despite the landmark Pocso Act addressing a range of these issues, our criminal justice system needs to do much more to curb this issue. The conversation around dealing with child sexual abuse needs to expand in terms of the ways in which our social and public forces deal with it. For example, to aid investigation against sexual offenders, the concept of a sex offender registry merits further consideration.
A sex offender registry is essentially a database of convicted sex offenders maintained by authorities to refer to in investigations and to monitor the activities of convicted offenders. The idea behind this is to primarily aid law enforcers in their job. The past cases of child sexual abuse revealed that a large part of the problem lies in the investigation process and judicial inefficiency, in spite of Pocso courts.
The case of the Delhi-based tailor Sunil Rastogi, charged with assaulting over a hundred minor girls in spite of serving an earlier sentence for the rape of a minor, is a classic example of why we need a sex offender registry. It could also deter repeat offenders. It took one incident of the murder and rape of Megan Kanka in the United States, by a formerly convicted offender, to spark national outrage and compel a change in the law. Megan's Law is the US federal law that mandated the establishment of a sex offender registry.
Such registries exist in various countries. The US has a complex system of sex offender registration, while Canada has a more straightforward system of registration and monitoring. Kenya, Nigeria and Taiwan have established their own systems over the past decade. These serve as instruments for institutions, particularly schools, to conduct checks on prospective employees before hiring them. They also serve as important tools for the police to use to conduct periodic checks on activities and statuses of convicted offenders.
In India, the primary purpose of the registry will be to serve as an important accessory to the criminal justice system. But it cannot work without the overall improvement in functioning of the judiciary and the police, and comprehensive reforms.
The concept of rehabilitation and reintegration of convicted offenders as an idea needs further examination. Japan runs successful rehabilitation programmes for offenders alongside a sex offender registry that have resulted in lower rates of sexual crimes against children. In India, this sort of rehabilitation will require a co-ordinated undertaking by the police and social rehabilitation groups.
(With inputs from Gopika Mahapatra)
Gaurav Gogoi is Member of Parliament from Assam
The views expressed are personal
"Exciting news! Hindustan Times is now on WhatsApp Channels
Subscribe today by clicking the link and stay updated with the latest news!"
Click here!