Becky Lynch wants bigger and better things for women's wrestling in WWE
Becky Lynch wants the women in WWE to continue to aim higher and not rest on their laurels.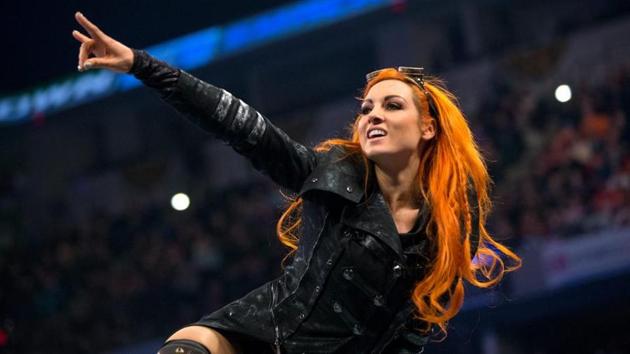 Published on Aug 19, 2017 04:51 PM IST
The last two years have been quite eventful for the women's division in the World Wrestling Entertainment (WWE).
The division was in disarray a few years ago with less focus on creating an entertaining product through storytelling and in-ring work, and more about the appearance of the wrestlers, which struck many to be tone-deaf and offensive.
However, that has changed with the wrestlers taking part in the first all-women steel cage "Hell in a Cell" match and also the first ever all-women 'Money in the Bank' match in the last ten months.
The division has also benefited from the arrival of fresh talent and former WWE SmackDown women's champion Becky Lynch believes that the women wrestlers are ready to have their very own show.
READ | WWE superstars torn over Conor McGregor-Floyd Mayweather super fight
The women's division has seen a lot of innovative matches in the last year and according to Becky, she would love to push the boundaries when it comes to women's wrestling.
"I don't see why we cannot have an all-woman show with multiple storylines to keep the audience engaged. We have a lot of strong performers in the roster and if handled well, an all-woman show like the Mae Young Classic can be brilliant for the division," Becky told Hindustan Times.
The Mae Young Classic, set to air later this year, will be the first tournament for women organised by WWE with talent from all over the world taking part in the competition. The talent on display impressed a lot of wrestling experts and Becky thinks that the wrestlers can be great additions to the roster.
"The tournament had an amazing collection of talent and I was excited to see wrestlers whom I have fought before on the independent circuit. All of the girls were really talented and if they are added to the roster, it will be a massive boost for the entire division."
READ | Jinder Mahal can inspire more Indians to become WWE stars, says The Great Khali
However, Becky believes the wrestlers cannot be satisfied with the current opportunities and they should constantly try to make the storylines better to keep the audience hooked.
"Right now it's in a bit of a bit of a static period, which is perfectly fine," Becky said. "We've come off stuff like two women's ladder matches, and Hell In A Cells, and we just need the storylines to constantly evolve.
"As great as all these matches are with the tables and the cages and the ladders, they're all wonderful, but what we really need is a reason people are emotionally invested."
Close Story