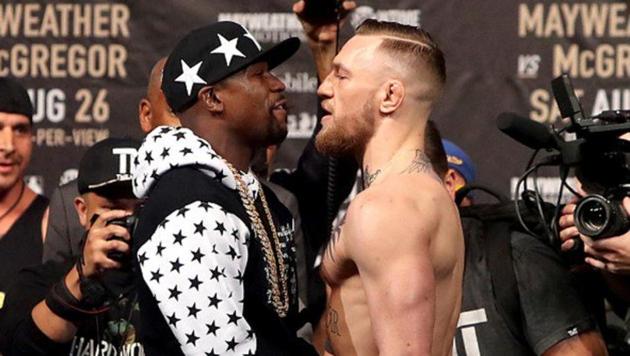 WWE superstars torn over Conor McGregor-Floyd Mayweather super fight
On August 26, the once-retired all-time great boxer Floyd Mayweather will take on Ultimate Fighting Championship's (UFC) biggest star Conor McGregor in Las Vegas with millions more watching around the world.
UPDATED ON AUG 19, 2017 04:33 PM IST
The much-anticipated fight between Conor McGregor and Floyd Mayweather is just round the corner and the sporting community has gone into a frenzy over the epic encounter.
On August 26, the once-retired all-time great boxer Mayweather will take on UFC's biggest star McGregor in Las Vegas with millions more watching around the world.
(Read | Floyd Mayweather predicts easy win over Conor McGregor in big-money fight)
Floyd Mayweather (49-0, 26 KOs) is a five-division world champion and his unbeaten run is legendary in the world of professional boxing. However, Conor is also no pushover as earlier this year, he became the first UFC fighter to simultaneously hold titles in two different divisions and the Irishman is considered to be one of the best MMA fighters in the world right now.
The 'super fight' has been a heavily debated subject among the experts for the last couple of months and the bookies have Mayweather as a firm favourite. But when it comes to the World Wrestling Entertainment (WWE) superstars, both McGregor and Mayweather have their fair share of supporters.
(Read | Conor McGregor plans to rule boxing blockbuster vs Floyd Mayweather with 'iron fist')
Samoa Joe, who will take part in the main event of WWE Summerslam on August 20 for the Universal title, has no doubt concerning the result of the match as he predicted an easy win for Mayweather.
"It's like Michael Phelps facing the best decathlete in the world. The decathlete can be a good swimmer, but he is no Phelps.I wanna give Conor McGregor a lot of credit for his charisma and how he can generate a lot to excitement around his fights. But, Floyd Mayweather is the pound-for-pound king of boxing and I think it will be an easy victory for him," Joe told Hindustan Times
Shinshuke Nakamura, who has a 3-1 win record in MMA fights back home in Japan, also picked Mayweather as the winner and said McGregor will need a miracle to beat the boxing legend.
(Read | Stephanie McMahon 'surprised' by interest in WWE among women wrestlers)
"Conor (McGregor) has a better reach and he is quick on his feet but I think that Mayweather will find an answer to these challenges. It will take a miracle for Conor to win this fight."
However, McGregor has found support in his compatriot Becky Lynch. The former WWE Smackdown women's champion will be supporting the Irishman and she believes McGregor can pull off a sensational victory.
(Read | Becky Lynch says engaging storylines key to women's evolution in WWE)
"I am supporting Conor (McGregor) one hundred percent! You can keep the Irish down temporarily, but you can never beat them."
Finn Balor, who became the first wrestler to win the WWE Universal title last year, echoed Becky's feelings and said he'll also have his fingers crossed for his compatriot.
"Conor (McGregor) is a proud Irishman and when one Irishman goes to war, we all go to war with him."
Close