Bhavani Devi ecstatic after winning gold at Satellite Fencing Championship
Updated on May 30, 2017 06:01 PM IST
Bhavani Devi, who had previously also won medals for India at Commonwealth meets and U-23 Asian Championships, bagged a gold medal in the sabre event of the Satellite Fencing Championship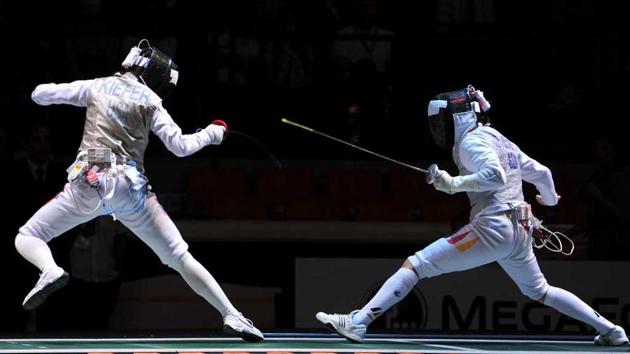 Asian News International |
Asian News International
Indian fencer Bhavani Devi made the country proud on Saturday after she bagged a gold medal in the sabre event of the Women's Satellite Fencing Championship held in Reykjavik.
This was Bhavani's maiden gold as well as India's first at an international fencing event.
The 23-year-old from Chennai, who had previously also won medals for India at Commonwealth meets and U-23 Asian Championships, was only competing at her third satellite event. She managed to make it to the finals overcoming tough opponents from Chile and Great Britain before beating Sarah Jane Hampson (also from Great Britain), 15-13 in the final.
Reflecting on her performance, Bhavani said, "I am extremely delighted with this medal. It means a lot to me considering it is my third attempt at a Satellite Tournament. It was a tough route to the final, beating Chile in the quarter-finals and Great Britain in the semi-finals was not an easy task. I am glad to have overcome this barrier and won the gold," she said.
" I would like to thank my coach Sagar Lagu who has set me up to reach the international level and succeed and my Italian coach Nicola Zanotti who has stuck by my corner over the past year and a half. The Sports Development Authority of Tamil Nadu has been extremely helpful, and so has the Sports Ministry and the Fencing Association of India. I would also like to thank the GoSports Foundation who have taken care of my sporting needs and supported me whenever I needed them," she added.
Bhavani, who trains out of Livorno in Italy, is currently in Moscow ahead of the next Fencing Grand Prix to be held between June 2 to June 5.
Immediately after her event, she will be travelling to Hong Kong to compete at the 2017 Asian Fencing Championships, between June 15 to June 20. Bhavani will aim to come back with a top 4 finish from her event in Hong Kong.
Personalise your news feed. Follow trending topics