Dutee Chand free to compete as IAAF's appeal temporarily suspended
Indian athlete Dutee Chand is free to compete in International Association of Athletics Federations (IAAF) events.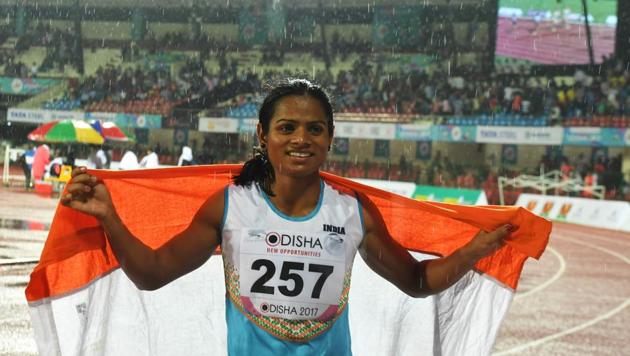 Updated on Jul 29, 2017 07:04 PM IST
Indian sprinter Dutee Chand's 'gender case' has been temporarily suspended again by the Court of Arbitration for Sports (CAS) in Lausanne, Switzerland, due to lack of scientific evidence.
In its July 24 interim report, CAS has suspended the International Association of Athletics Federations' (IAAF) fresh appeal on hyperandrogenism regulations until the end of September.
During this period, Dutee can compete in both national and international-level competitions. On Friday, the IAAF had invited the Indian sprinter to compete in the August 4-13 World Championships at London. Thanks to her performance of 11.30 sec in May, the world body extended the invite, as the target number of 56 athletes was not reached in the 100m.
READ | Why Usain Bolt can reverse retirement decision? Justin Gatlin explains
The CAS panel also said the case will be closed if the IAAF is unable to provide evidence in the two months. "Should the IAAF not field any scientific evidence within the additional two months granted by the CAS panel, the hyperandrogenism regulations will be declared void," CAS said in its interim report.
The CAS panel in-charge of the proceeding said, "Based upon the agreement of the parties and at the approval of the panel, the hyperandrogenism regulations have been suspended for an additional two months. During such extended suspension, Dutee Chand remains eligible to compete in both national and international-level competitions."
The IAAF response was that it will discuss the issue with its experts and the International Olympic Committee and decide how best to address the interim ruling by the CAS.
READ | Kerala HC orders AFI to include PU Chitra for IAAF World Championships
In 2014, Dutee was disqualified by the Athletics Federation of India (AFI) as per IAAF's hyperandrogenism policy after tests revealed testosterone (male hormone) produced naturally by her body was above permissible range. The Indian sprinter challenged the IAAF policy in CAS.
READ | Indian sprinter Dutee Chand invited to run at IAAF World Championships
On July 27, 2015, CAS made an interim decision to suspend the world governing body's hyperandrogenism policy for two years, to provide IAAF with an opportunity to submit further evidence to prove the advantage hyperandrogenic female athletes have over athletes with those having normal testosterone levels.
Recently, the IAAF decided to pursue the case again after receiving the report of a study commissioned by it. It's move was opposed by activists from across the world.
But the IAAF yet again failed to provide scientific evidence on the quantitative relation between enhanced testosterone levels and improved performance in athletics with hyperandrogenism.
Close Story
Personalise your news feed. Follow trending topics