Indian sprinter Dutee Chand invited to run at IAAF World Championships
Jul 28, 2017 07:46 PM IST
India's Dutee Chand, who narrowly missed qualifying for the 100m at the London world athletics championships in August, has got an invite due to paucity of entries.
Indian sprinter Dutee Chand, who narrowly missed achieving the women's 100m qualification mark for the World Athletics Championships in London, has got a fresh chance to run in the August 4-13 event.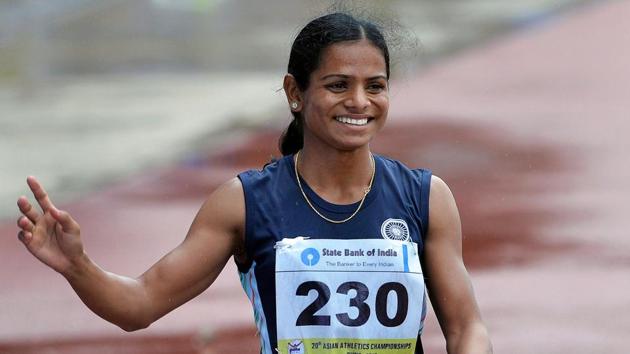 The diminutive sprinter from Orissa, who missed the target of 11.26 seconds, has received an invitation from the International Association of Athletics Federation (IAAF) thanks to her season's best of 11.30 seconds.
Of the five 100m finals she raced till July 9, her best came at the third leg of the Indian Grand Prix held at the Jawaharlal Nehru Stadium on May 15.
READ | Sudha Singh targets CWG, Asian Games after IAAF World Championships snub
Short of entries
With the qualification period having ended, the IAAF invited Chand as the target number of 56 athletes for 100m at London was not reached. Chand's 11.30 seconds in the qualifying period gives her a global ranking of 100.
"On the basis of her global ranking, Dutee has been considered for the London competition. As per the provision of the IAAF, the athlete is required to send her decision within 12 hours of receiving the invitation. On refusal, the next eligible athlete will be identified to establish the target number of athletes," said an official of the Athletics Federation of India.
Chand's coach N Ramesh said he wasn't aware of the invitation. "Officially, we haven't got any information. But Dutee has British visa. In case there is an invitation, we will discuss and take a call," he told Hindustan Times.
READ | IAAF World Championships: Kerala HC seeks explanation on PU Chitra's exclusion
Taking a break
After participating in the Asian Athletics Championships at Bhubaneswar earlier this month, where she claimed bronze clocking 11. 52 secs, Dutee took a break from competition.
She also missed the Inter-State Athletics Championships held at Guntur from July 15-18.
Chand's athletic future is in doubt due to hyperandrogenism. The sprinter successfully had a ban overturned in the Court of Arbitration for Sport (CAS) in 2015, which led to the suspension of the world body's hyperadrogenism regulations.
The IAAF announced this month it would appeal that decision in CAS after a fresh study sponsored by it showed athletes with this condition – characterised by excessive male hormone testosterone in the body – gained advantage over other women athletes with normal testosterone levels.