Hockey World League: FIH, Pakistan not amused by India's black armband protest
The international hockey federation (FIH) was stumped when the Indian team sent out a political message during their Hockey World League semifinal group stage match against arch-rivals Pakistan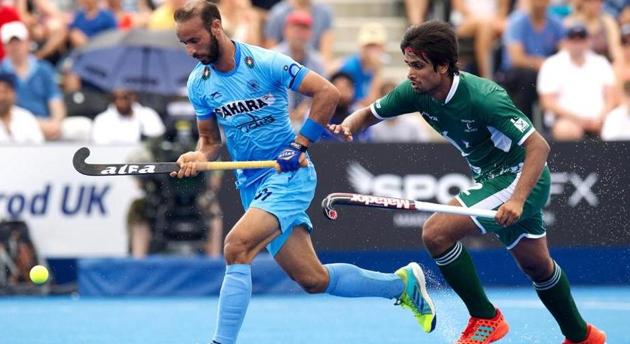 Updated on Jun 21, 2017 11:39 PM IST
India's black armband protest during their Hockey World League semifinal group B match against Pakistan on June 18 has put the international hockey federation (FIH) in a spot of bother. On Wednesday, the FIH apologised for politically sensitive remarks made in the social media by its Indian president Narinder Batra.
(Read | Why Indian hockey team wore black arm bands vs Pakistan during World League)
Hosts England are among several nations who have not endorsed India's manner of condoling the death of soldiers patrolling the troubled frontiers in Jammu & Kashmir. Pakistan are visibly upset that India had used the hockey pitch to convey a political message.
In an exclusive chat with Hindustan Times at the Lee Valley Hockey and Tennis Centre in the Olympic Park in Stratford on Wednesday, former Pakistan star Shahbaz Ahmed slammed Narinder Batra for posting Twitter messages on a delicate political issue. "Such things only spoil relationship, on and off the field," he said.
(Read | Hockey World League Semi-Final: Pakistan hockey team looks up to cricketers for inspiration)
Shahbaz, who is now the secretary-general of Pakistan Hockey Federation, said, "Batra forgot that he is the president of FIH. He needs to be fair in his position and avoid making remarks on issues that are beyond the control of hockey players, administrators and fans, three of the biggest stakeholders of any sport."
After more than 48 hours and probably under pressure, the FIH stated that it did not side with its president. "The FIH would like to emphasise that these comments were the personal thoughts of Dr Batra and not representative of the views of the FIH. The FIH would like to apologise for any offence that these comments may have caused.
(Read | Hockey World League Semi-Final: India face Malaysian hurdle in quarters)
"At the request of FIH, these comments have now been deleted and the matter will be reviewed internally in line with our governance processes."
England, too, have apologised to Pakistan, said 48-year-old Shahbaz, who retired from active hockey in 2002.
(Read | Rani Rampal to lead Indian women's team in Hockey World League Semi-Final)
"Andy Tapley (organising committee boss) of England Hockey came to us and said they never saw this nature of Indian protest coming. It leaves a very bad taste in the mouth at a time when all the world federations are trying their best to use sports as a message of peace," said Shahbaz.
"Why didn't the Indian cricket team wear black armbands during the ICC Champions Trophy? They played Pakistan not once but twice. When you use players to deliver political messages, it is not in the right spirit," said Shahbaz.
(Read | Hockey World League semifinal: India lose vs Netherlands but enter last 8)
On June 18, India thrashed Pakistan 7-1. But the good work on the hockey pitch was spoilt by Virat Kohli's men, who were handed a 180-run thrashing in the Champions Trophy final against Pakistan at The Oval.
Shahbaz said when the FIH president doesn't know where to draw a line, "can you really blame the players?"
Known as the Maradona of hockey, Shahbaz recalled how a clutch of Pakistani players, who had made ugly gestures after beating India in a highly-charged Champions Trophy semifinal in Bhubaneswar on December 14, 2014, were made to apologise for their unwarranted act.
"Will Mr Batra do the same?" Shahbaz asked
Close Story
Personalise your news feed. Follow trending topics