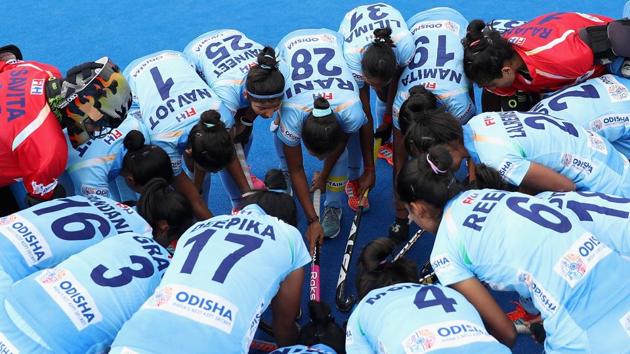 India vs USA, Women's Hockey World Cup highlights: As it happened
India played out a 1-1 draw with USA to qualify for the playoffs. Get highlights of the match between India and USA here.
Hindustan Times, New Delhi | By Himanshu Dhingra
UPDATED ON JUL 29, 2018 11:12 PM IST
India drew 1-1 with USA in their final Pool B match against USA to qualify for the playoffs. Margaux Paolino gave USA the lead in the first quarter to put India's participation in the knockout stages of the competition in jeopardy but captain Rani Rampal stepped up to the plate to restore parity to the scoreline just seconds into the third quarter. India will now play either Italy or South Korea in the playoffs, the opponent for India will depend upon the outcome of the match between Ireland and India. Should England lose heavily India will play Korea and that will also open the door for USA to qualify eliminating England. Get highlights of the 2018 women's hockey World Cup match between India and USA here.
22:59 hrs IST: Full Time and India draw 1-1 with USA to qualify for the playoffs. They will play either Italy or South Korea. Thanks for Joining us.
22:54 hrs IST: Last few minutes and India are almost there. They need to see this out.
22:50 hrs IST: It's raining now at the venue, don't know if it helps or hinders anyone.
22:47 hrs IST: USA's game has gone totally of the boil. They can't get out of their half. India totally dominant.
22:44 hrs IST: The fourth and final quarter is underway and India have a penalty corner.
22:41 hrs IST: End of third quarter and India are level with USA.
22:37 hrs IST: Another green card for a USA player. India need to make this spell count.
22:34 hrs IST: Green card for USA goalscorer Margaux Paulino. India asserting dominance.
22:31 hrs IST: Big next twenty or so minutes coming up here, USA need a goal and India can now relax a little and play on the counter.
22:24 hrs IST: Goal!!!!! India equalise against USA and it's captain Rani Rampal who has scored. BIG-BIG goal this for India.
22:10 hrs IST: Half-time and India are 0-1 to USA. If don't find an equaliser in the next two quarters they are going home.
22:10 hrs IST: Penalty Corner to USA and it's just gone inches wide of Savita Punia's right hand post. India need to get better.
22:03 hrs IST: USA keeping possession while India sit deep. India playing a dangerous game and need a goal at least to qualify.
21:58 hrs IST: Brilliant save by USA keeper Briggs to deny India from their fifth penalty corner. India getting close!
21:55 hrs IST: Penalty corner to USA this time but India scramble clear. Still 0-1.
21:53 hrs IST: Q2 is underway and India are behind.
21:50 hrs IST: End of Q1 and India are behind to USA, as things stand they are heading out of the tournament.
21:44 hrs IST: Penalty Corner to India and once again it's wasted.
21:44 hrs IST: GOAL!!! USA have take n the lead against India through Margaux Paolino, As things stand India are heading out.
21:38 hrs IST: No team has had a definitive upper hand in the game, India have had an early PC but 50-50 so far.
21:38 hrs IST: Penalty Corner for India, but it is straight to the goalkeeper, wasted.
21:34 hrs IST: Potentially bad news for India as captain Rani Rampal has gone off with what looks like an injury to her leg.
21:32 hrs IST: India have started brightly against USA, let's hope it's a sign of things to come.
21:30 hrs IST: And the action begins. Come On India.
21:26 hrs IST: The two teams are out on the field, action set to begin momentarily
21:19 hrs IST: Should India manage to qualify, it will face either Italy or south Korea in the playoff stages.
21:17 hrs IST: The start of the match is just minutes away and the tension is palpable. India could just as easily be eliminated or could qualify easily too.
20:27 hrs IST: It will be a tough match on two counts, one India have been really poor in the entire tournament and USA are ranked higher in rankings than India. USA must win to guarantee their spot in playoff stages, while a draw for India will be enough.
20:25 hrs IST: Hello and welcome to the live blog of India's match at 2018 Women's Hockey World Cup.
India have so far only scored one goal in the 2018 women's hockey World Cup. The goal was scored by Neha Goyal in India's opening match against England.
Depending on how the results pan out India could face any of the teams from Pool A of the 2018 women's hockey World Cup.
Close