IOA chief Narinder Batra defends football's exclusion, says no place for 'also rans'
The Indian men's and women's football teams will not be travelling to the Asian Games in Indonesia because they are "unlikely" to win medals.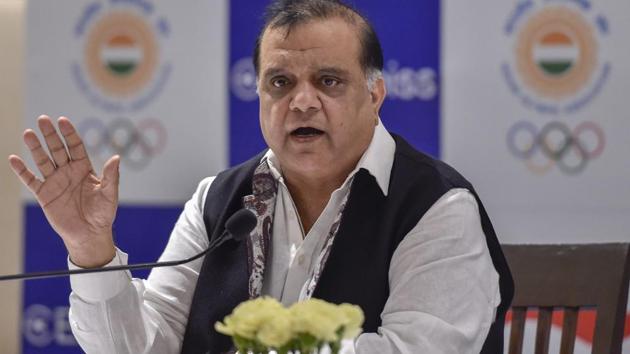 Updated on Jul 05, 2018 04:44 PM IST
New Delhi |
Press Trust of India
Indian Olympic Association (IOA) president Narinder Batra today defended football's exclusion from the Asian Games contingent and justified the decision of including lesser known sports like pencak silat, saying they are potential medal winners and there is no place for "also rans" in the squad.
"It is not that we personally like those sports and have included them. They have been winning medals and are expected to win at the Asian Games too. There were another 5-6 lesser known sports besides pencak silat but we did not include them because they were not potential medal winners," Batra told PTI today.
READ | Asian Games gold will give India time to be Olympic podium contenders: Harendra Singh
Men and women football teams will not be travelling because they are "unlikely" to win medals while a 22-member pencak silat squad (an Indonesian form of martial arts) will represent India at the August 18-September 2 Games in Jakarta and Palembang.
India had won two silver and five bronze medals at the Asian pencak silat championships in 2016.
India will also be competing in lesser known disciplines like sambo (6 members), soft tennis (10) and kurash (14).
"You have to be at a certain level now. You cannot go there to finish as also rans. You need to be visible. You have to earn your place in the contingent. Those days when these things were overlooked are gone.
"There has been criticism (about excluding football) but we are not bothered about that. These not so popular sports will win India medals and that is what matters. Sports have been cleared with a clear intention that they would be performing. They will not be finishing last," added Batra, who is also heading the international hockey federation FIH.
READ | Asian Games 2018: IOA picks teams for silat, kurash, sambo but not football
Football teams were ignored because they are not ranked in the top-8 in Asia. The All India Football Federation had called the IOA's decision a myopic one.
Earlier this week, India announced a 524-member contingent for the continental Games comprising 277 men and 247 women.
India finished eighth at the Incheon Asian Games four years ago with 57 medals including 11 gold, 10 silver and 36 bronze.
Close Story