Milkha Singh's dream comes true, Flying Sikh gets a Madame Tussauds wax statue
Updated on Sep 26, 2017 08:01 PM IST
Milkha Singh, the legendary athlete, have found a place in the famous Madame Tussauds gallery. His wax statue was unveiled in Chandigarh today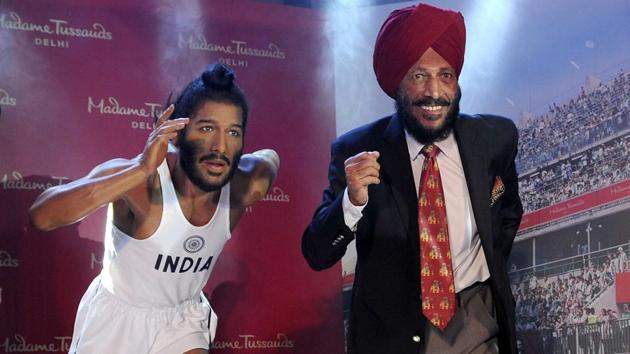 The 1958 Commonwealth Games in Cardiff, Wales, is one of the most memorable sporting outings for the legendary athlete Milkha Singh. He scripted the history by becoming the country's first athlete to win gold.
After the Cardiff Games were over, the Indian contingent had a day halt in London and to make most of time, the contingent decided to visit the world famous Madame Tussauds. But at that time, not even in his wildest dreams did Milkha Singh think that one day he would have his wax statue made by Madame Tussauds.
"After the Cardiff Games were over, some of my fellow athletes told me that there's a very famous museum in London where there are statues of world's great personalities and they look real. So, I visited the museum and I liked it very much.
"Even 10 years back I visited the museum with my wife during a family trip, but during all my visits to the Madame Tussauds it never came in my mind that one day I would also have a wax statue placed in the museum.
"I am really honoured that my statue will be placed among the other celebrities from various fields in the Madame Tussauds' Delhi Museum," said Milkha Singh while unveiling his wax statue at a ceremony in Chandigarh.
TOP FIFTY
Milkha Singh will be among 50 famous personalities from various walks of life whose wax figures will be displayed in New Delhi, which will be the 23rd museum of the world famous London-based Madame Tussauds.
The New Delhi museum is set to open on December 1, 2017. It will be located on the first and second floors of the famous Regal Cinema building in Connaught Place, central Delhi.
"Earlier it was the Bollywood movie Bhaag Milkha Bhaag that helped in knowing the young generation about my struggle, hardships and achievements. And now this wax statue will again make me popular with the generations that have not seen me running," said Milkha, who is popularly known as the 'Flying Sikh'.
NEW LIFE, SAYS MILKHA SINGH
"Everybody has to die one day, but this gesture of Madame Tussauds has increased my life and now I will live for another 10 years," laughed Milkha, who is in his mid eighties.
"The statue costs around R1.5 crore," said Anshul Jain, general manager and director, Merlin Entertainment India Private Limited, which operates Madame Tussauds.
The athlete, who missed a medal at 1960 Rome Olympic medal by a whisker, finishing fourth in the 400m final, will share space with the wax statues of Mahatma Gandhi, Prime Minister Narendra Modi, 1983 World Cup winning captain Kapil Dev, Bollywood superstar Amitabh Bachchan and Indian revolutionary Bhagat Singh.