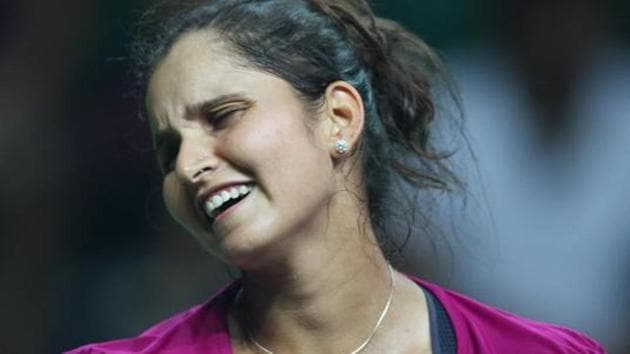 Sania Mirza, five wrestlers among eight dropped from TOP Scheme
Sania Mirza's exclusion from TOP Scheme was on expected lines as she is expecting her first child with cricketer husband Shoaib Malik
PTI, New Delhi | By PTI
UPDATED ON MAY 23, 2018 10:07 PM IST
Sania Mirza was excluded from the sports ministry's Target Olympic Podium Scheme (TOPS) along with five wrestlers and two boxers in the latest list issued by Sports Authority of India (SAI) on Wednesday.
Sania's exclusion was on expected lines as she is expecting her first child with cricketer husband Shoaib Malik.
READ | Tejaswini Sawant wins gold in 50m Rifle Prone in prelude event of shooting World Cup
Two track and field athletes - A Dharun and Mohan Kumar - were added in the list of 192 sportspersons who will get funding from the government.
Praveen Rana, Satyawart Kadian, Sumit, Lalita and Sarita were the five wrestlers dropped from the list while boxers L Devendro Singh and S Sarjubala Devi also got the axe.
As many as 41 sportspersons from seven disciplines have been identified to get the funding till the Olympic Games. Out of them, 14 are from shooting, 10 from badminton, six from boxing, four from wrestling and two each from athletics, archery and weightlifting.
All the other remaining, except for three, are for Asian Games.
READ | Asian Games: Dipa Karmakar not 100 percent fit, need to fight fear factor - coach
Three track and field athletes - Lili Das, Sanjivani Yadav and Tejaswani Shankar - who were earlier marked to be funded till 2020 Tokyo Olympics, have now been listed for Asian Games.
The maximum number in the list still comes from athletics (35), followed by shooting (31), para-sports (26), boxing (21), Archery (15) and badminton (10).
The Mission Olympic Cell (MOC), headed by the SAI Director General, evaluates the proposals of the athletes to be included in the TOP Scheme list.
READ | India women's badminton team thrashed 0-5 by Japan, bow out of Uber Cup
It sanctions budgets based on the requirements of the athletes and the Committee's recommendations. The Committee is also responsible for periodically conducting review of athletes' progress and performances. Based on the Committee's recommendation, athletes may be included, retained or excluded from the TOP Scheme.
"This list is dynamic & will be reviewed regularly," said DG Neelam Kapur tweeted.
Close