Sasha Banks feels time is right for women wrestlers to headline WWE WrestleMania
Updated on Nov 12, 2017 12:45 PM IST
Sasha Banks is not willing to rest on her laurels despite achieving so much in her career, and the 25-year old has already set a new goal for herself - being in the main event of WrestleMania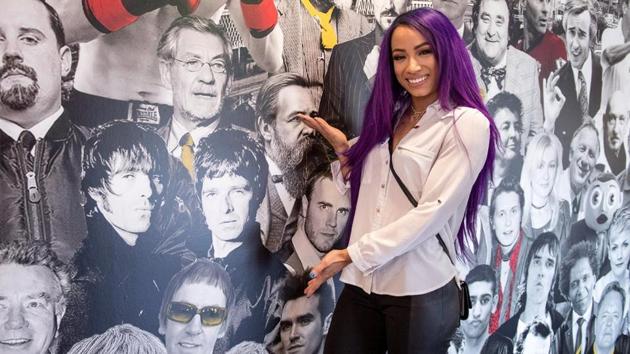 The past two years have been a revolutionary period for women's wrestling in the World Wrestling Entertainment (WWE) . From the women athletes taking part in the dangerous 'Hell In A Cell' match to competing in the first ever all-women 'Money in the Bank', the performers have achieved new heights in the past few months.
However, four-time women's champion Sasha Banks is not content with her achievements and the 25-year old has already set a new goal for herself.
"My main goal is to feature in the main event of Wrestlemania. It is the biggest dream of any WWE wrestler and although there has never been an all-woman main event, I think it is about time," Sasha told Hindustan Times.
"We have already done great things like the Money in the Bank this year and it is my goal to create history by headlining the biggest show of the company."
READ | Driven by doubters, WWE champion Jinder Mahal determined to cement his own legacy
Sasha Banks is a multiple times women's champion and along with Charlotte Flair, Becky Lynch and Bayley, she is known as one of the main reasons behind the developement of the WWE women's division, which started in WWE's developmental brand NXT.
Her 'Iron woman' match against Bayley at NXT TakeOver: Respect in 2015 was the first of its kind in WWE and it was also the first time that the main-event of a major show was headlined by women.
However, it was just the start for Sasha as she went on to main-event WWE Hell in a Cell next year. Her match against Charlotte at the event is considered as one of the best in the last few years and it was a defining moment for the entire division. "The Boss" is proud of her growth as a performer and the resurgence of the women's division.
"Since my time in NXT till now it has been such an amazing growth. To come from a place where we (female stars) used to be called Divas, now we are known as superstars just like the men. To have so much history, being involved in so many first-time matches.
READ | World Wrestling Entertainment signs first female performer from Arab World
"It is exciting to be a part of such a big women's division and I hope for the future to come, we just keep on dominating and showing the world that women's wrestlers is where it is at and we are doing great things."
Sasha Banks will be visiting India later this year as part of the RAW roster and on December 8, she will take on Alexa Bliss for the RAW women's championship at the live event in New Delhi.
Banks sounded quite excited about her upcoming trip to India and she had a special message for her Indian fans.
"I am so excited to come to India. When I was told that I will be part of the live show, I was very excited. Getting to see the world, is the one of the best things about being a WWE superstar.
"I am just hoping that I will get an opportunity to see the country properly during my visit. My Indian fans can tweet me, and tell me where to go, it will be awesome and I will be really appreciate it.," she said.
Personalise your news feed. Follow trending topics