Sharath Kamal ends decade long title drought, clinches Oman Open
Sharath Kamal defeated the top seed Marcos Freitas from Portugal 6-11, 11-8, 12-10, 11-9, 3-11, 17-15 to win Oman Open title.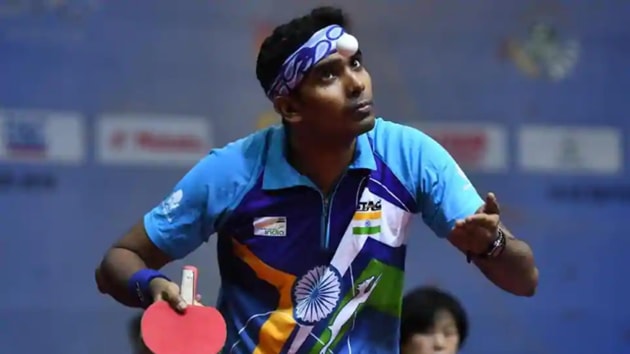 Updated on Mar 15, 2020 11:03 PM IST
Hindustan Times, Mumbai |
B Shrikant & Rutvick Mehta
As he surged towards the title, clearing round after round at the ITTF Challenge Plus Oman Open in Muscat, India's Achanta Sharath Kamal was waging battles on twin fronts—against his opponents across the table and the mixed feeling of worry, fear and confusion over the prevailing circumstances.
Fear of the coronavirus pandemic was omnipresent in the Sultan Qaboos Sports Complex at the Oman capital and Sharath too felt it. But deep inside, Sharath was worried about maintaining his world ranking essential to book a berth in the Tokyo Olympics, if it happens. And there was an undercurrent of confusion among players over what would happen to the now stalled Olympic Qualification Programme. The Asian Qualification Tournament has been postponed to May and even that would happen only if the situation improves over the next few weeks.
But Sharath maintained his composure and went on to claim his first ITTF level title since winning the Egypt Open in 2010, beating top-seeded Marcos Freitas of Portugal in his first Challenger event final on Sunday.
The 37-year-old Sharath won 6-11, 11-8, 12-10, 11-9, 3-11, 17-15. After losing the first game, Sharath looked in trouble before pulling off a fine recovery from 3-7 down to win eight of the following nine points (11-8). Freitas then enjoyed a mini comeback of his own, saving two game points but couldn't stop Sharath from winning the third game. The two finalists' scored alternate wins in games four and five before playing out a thrilling game six—Sharath saved two game points only for Freitas to rescue a championship point with an edge of the table winner. The Indian saved three further game points, before capitalising on his second championship point to seal the title.
SURREAL ATMOSPHERE
It was a strange tournament for Sharath as the usual bonhomie associated with table tennis events was missing. "Players are taking a lot of precautions by frequently washing their hands as advised. We are trying to have as minimum contact with each other. Also no shaking hands before and after matches. Things are pretty scary especially after the lock down of many European countries as players didn't know whether they should go back or continue with the tournament," Sharath said from Muscat.
Playing in the event was physically and emotionally draining for the players, said teammate Harmeet Desai, who lost in the singles semi-finals to Freitas earlier in the day and had reached doubles quarter-finals with Sharath.
"The situation is definitely not comfortable, playing a tournament when the world is going through a crisis. It was really tough, emotionally and mentally because it is a unique situation where every player has to take care of himself and also focus on his game," he said.
"I stayed indoors all the time, and went out only to go to the stadium for my matches. I came back to my room as soon as possible. For both tournaments—Qatar Open and Oman Open—I was staying alone in a single room. That doesn't happen usually on the Pro Tour. We were not shaking hands. In the doubles, after each point we normally shake hands or pat each other, but we were avoiding contact," added Desai.
It was not just the Indians—there were Sanil Shetty, Jeet Chandra, Anirban Ghosh, Mudit Dani, Manav Thakkar and Suravanjjula Snehit also in the fray in Muscat—but also the Europeans who were worried. "European players were under more stress, constantly checking the status back home before and after their matches. They were trying to find out how many people have tested positive and if their borders were still open. It was scary," said Desai.
Topics
Close Story