Sudha Singh finishes second best, yet makes it to Rio
Updated on Apr 30, 2016 11:00 AM IST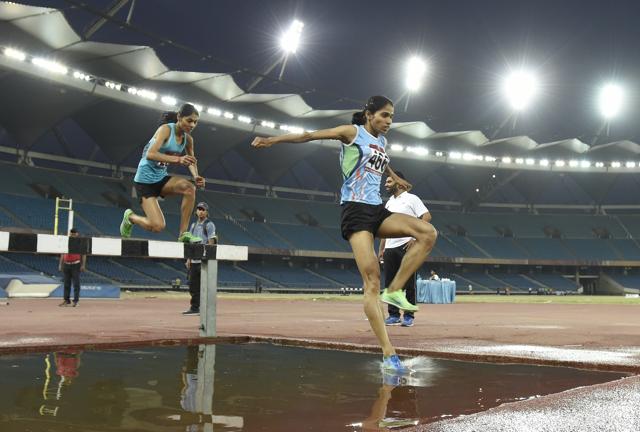 Ahead of the race, Sudha Singh had predicted, 'I will qualify for Rio." Her words came true when she clocked 9:31.86 seconds in women's 3000 metres steeplechase to earn the Olympic berth on the second day of the Federation Cup. Sudha's performance was within the Rio qualification mark of 9:45.00.
However, she had to be content with the second spot as Lalita Babar claimed gold with a national record of 9:27.09 secs. Babar had set the previous mark of 9:27.86 at the 2015 Beijing Worlds and qualified for Rio.
Both Sudha and Lalita also have the option of running the marathon at Rio as they had qualified for the event earlier this year.
Besides steeplechase, the spotlight was on 400 metres. Rajiv Arokia of Services has been dominating the scene for the last two seasons, and on Friday, he stamped his authority again by breaking the national record of 45.48 seconds set by KM Binu at the Athens Olympics in 2004.
Representing Tamil Nadu, Arokia crossed the finish line at 45.47 secs. His performance was marginally short of the Rio qualification mark of 45.40 secs, but in the next couple of weeks he will have more opportunities to achieve the Rio berth. Muhammed Anas finished second with 45.75 secs. The other six runners weren't able to break the 46-sec barrier.
In women's 400m, there was an intense battle between MR Poovama and Anilda Thomas, who didn't disappoint her coach PB Jaikumar. Anilda's time was 52.40 secs, while Poovama was second with 52.60 secs.
Anilda's performance showed that results can be achieved with minimum facilities, as the Kerala runner had refused to train under controversial foreign coach Yuri Ogorondik. After winning gold, Anilda and the Athletics Federation of India (AFI) made peace, and she has been invited to join the Rio preparatory camp.
The AFI has also included her coach Jaikumar in the camp. Anu Raghavan, another Kerala runner who wasn't in the good books of federation, will also be included in the camp. She finished fourth on Friday. CK Valsan, AFI secretary, confirmed the development, saying it would brighten the chances of the national squad to achieve the Rio qualification mark in 4x400m relay.
OP Jaisha won the women's 1500m but failed to earn a Rio berth.
Personalise your news feed. Follow trending topics