North Korea's nuclear antics impacts South Korea's Winter Olympics ticket sales
Agence France-Presse, Seoul |
Agence France-Presse
Sep 05, 2017 01:37 PM IST
The 2018 Pyeongchang Games will take place in South Korea which has a limited winter sports tradition and far from the core markets of Europe and North America, amid the tensions with North Korea.
Online ticket sales for next year's Winter Olympics opened in South Korea Tuesday, with organisers admitting far fewer places had so far been sold than previously implied, and concerns growing over North Korea's nuclear antics.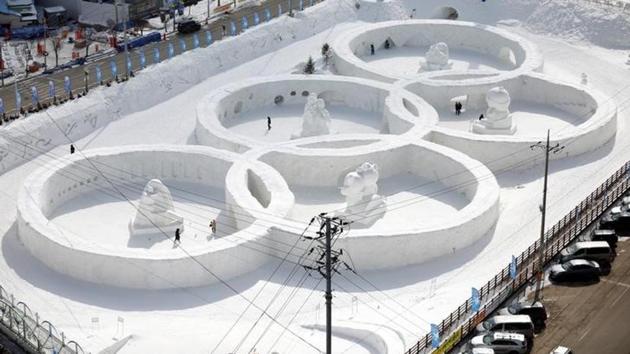 The 2018 Pyeongchang Games will take place in a country with a limited winter sports tradition and far from the core markets of Europe and North America -- making local attendance crucial to ensuring the grandstands are full.
But in the first phase of South Korean sales earlier this year, organisers allocated 162,000 tickets in an application lottery -- just over a quarter of their 600,000 target.
READ | Teachers' Day special: Why PV Sindhu 'hates' badminton guru Pullela Gopichand!
Worse still, they admitted Tuesday that only 52,000 of those tickets had actually been sold.
"It's true that the first-phase sale was rather disappointing," said Song Hun-Seok, media service chief at the Pyeongchang Organizing Committee (POCOG).
At the time the country was reeling over the sprawling corruption scandal that saw president Park Geun-Hye impeached.
"We will make efforts to create a greater Olympic buzz with various build-up events" including performances and street campaigns, said Song.
There are 1.18 million seats available for the two-week event next February.
Of those, 70 percent have been alloted to South Korean residents, with 30 percent going to overseas fans and sponsors through separate processes.
In all, POCOG said, 229,000 spots had been sold up to July 17, the latest figures available, including 177,000 to overseas fans.
READ | Sports minister Rajyavardhan Singh Rathore puts onus on states for talent to bloom
That amounts to less than 20 percent of the total, with little more than five months to the opening ceremony.
Popular events such as ice hockey and figure skating have sold well, but there is lack of enthusiasm for snow events, where South Korea is weak.
Gunilla Lindberg, head of the IOC's Coordination Commission, said last week that she was "very pleased" with the progress of preparations, but that more buzz needed to be created to drive ticket sales and there were questions over some of the venues' post-Olympics use.
Opening ceremony
Online and mobile sales on a first come, first served basis began Tuesday in South Korea.
Full-price tickets available on the website ranged from as little as 20,000 won ($18) for early rounds of cross-country skiing and bobsleigh, up to 900,000 won for top-tier seats at the men's ice hockey final -- although availability for that event was described as "low".
Opening and closing ceremony tickets could also be had, at 1,500,000 won and 950,000 won for the best category seats respectively.
Officials sought to play down fears over the weapons ambitions of neighbouring North Korea, which carried out its sixth nuclear test at the weekend and tested two intercontinental ballistic missiles in July that appeared to bring much of the US mainland into range.
READ | Salwar-Kameez-clad Haryana wrestler Kavita Devi takes WWE fans by surprise
"Regardless of the jitters over the North's nuclear drive, we'll continue making preparations to ensure the Olympics will be a success," POCOG spokesman Sung Baikyu told AFP.
"We've been under constant threats from the North and the atmosphere here is much calmer than it may look to foreign eyes," he said.
The South has successfully staged several international sporting events over decades despite military tensions on the peninsula, including the 1988 Seoul Olympics -- which took place only months after a mid-air explosion killed all 115 people on board a South Korean plane, with Seoul blaming a terror attack by the North.