Tiger Woods seals first win in five years with Tour Championship
Sep 24, 2018 04:27 PM IST
Woods, who finished with an 11-under-par aggregate 269, raised his arms in delight after the victory, with several thousand fans ringing the green roaring their appreciation.
Tiger Woods scored his first victory in more than five years on Sunday, completing a two-shot win at the Tour Championship to crown a fairy tale comeback after a near two-year absence.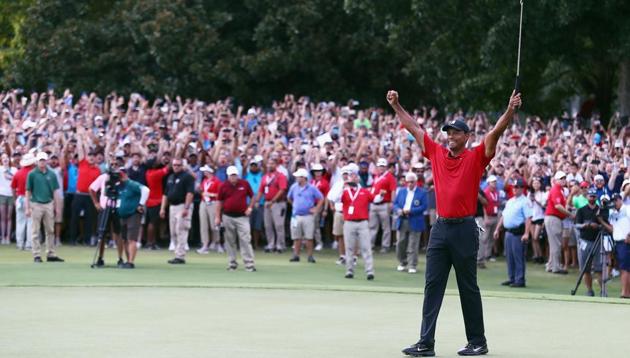 The 42-year-old, 14-time major winner carded a one-over-par 71 at Atlanta's East Lake Golf Course to claim the 80th title of his glittering career.
Woods, who finished with an 11-under-par aggregate 269, raised his arms in delight after the victory, with several thousand fans ringing the green roaring their appreciation.
Woods admitted he had nearly been overcome with emotion as he walked up the 18th fairway.
"I was having a hard time not crying coming up the last hole," Woods said, whose most recent before Sunday had come 1,876 days ago at the 2013 WGC-Bridgestone Invitational.
"I kept saying 'Hey, I could still play this out of bounds.' But once I got the ball on the green I gave (caddie) Joey (LaCava) a high five because I knew it was done."
It was an emotional finale to a year which saw Woods return to the highest level after he had once feared he may never play golf again.
"It was just a grind out there," Woods said of his final round. "I loved every bit of it. The fight, the grind, the tough conditions.
"Beginning of the year (winning) was a tall order. But as the year progressed I found my swing and put the pieces together and I knew I could do it."
Woods later revealed he had been close to tears on the final green as he prepared for the par putt to complete the win. "I realised all of sudden I was going to win the tournament," he said.
'It's been tough'
"My eyes started tearing up a little bit. I just can't believe I pulled this off after I've gone through.
"It's been tough. I've had a not-so-easy last couple of years. I've worked my way back. I couldn't have done it without the help of all the people around me.
"Some of the other players knew what I was struggling with. It was really special to see them at the green on 18. It's just hard to believe I won the Tour Championship."
The victory erased any last lingering doubts about Woods' ability to compete at the highest level, something he had served notice of with top 10 finishes at the British Open and US PGA Championships.
Woods, who returned in January after missing almost the entire previous two years with a debilitating back injury, held a three-shot advantage heading into the final round.
A birdie on his opening hole extended Woods' lead to four shots to give the former world number one a dream start.
With the remainder of the 30-man field struggling to make any inroads, Woods then played solid if unspectacular golf to keep a stranglehold on the lead.
A bogey on the 10th was a mere blip, with Woods re-establishing a five-shot cushion at 13 under after rolling in a 13-foot birdie putt on the par-four 13th. Billy Horschel closed the gap to four shots after after a four-under-par final round 66, but Woods looked to be in control.
Woods, however, gave his army of fans roaring him on a scare though when back-to-back bogeys on the 15th and 16th holes cut his lead to two with two to play. But he steadied the ship with a dogged par on the 17th and then closed out the win with a par on 18.
"Billy put a bit of pressure on me at the end. The up and down at 17 was huge," Woods added.
Meanwhile England's Olympic champion Justin Rose ensured he walks off with the FedEx Cup playoff title after finishing on six under for a share of fourth. Woods was made to sweat however after a shaky three-over-par 73 on his final round. "It felt like a slow death out there for me today," Rose said before saluting Woods, who stood nearby.
"I'd like to congratulate Tiger right now. I think the world of golf is really proud of you and is super excited about your game and the way the game of golf is going."