Vivek Sagar Prasad named 2019's rising star of international men's hockey
Vivek polled 50 per cent of all National Association votes, 23 per cent media votes, 15.1 per cent fans/players votes for a combination of 34.5 per cent votes.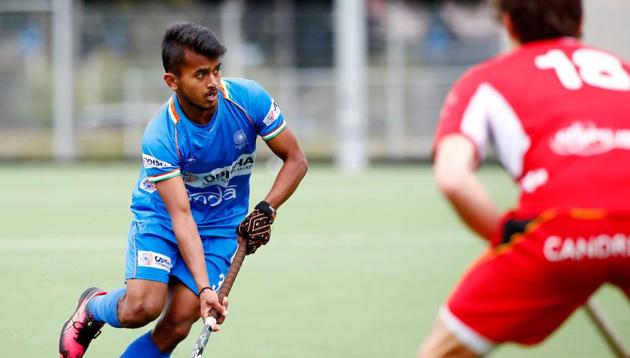 Updated on Feb 10, 2020 11:49 PM IST
Having secured a permanent place in midfield and two years after making his senior India team debut, Vivek Sagar Prasad's exploits on the turf were recognised by coaches, experts and administrators worldwide as he was voted the best young player on Monday in a poll conducted by international hockey federation (FIH).
The 19-year-old from Hoshangabad, a product of the Madhya Pradesh government's hockey academy in Bhopal, was on Monday named the FIH Men's Rising Player of the Year for 2019, bagging the most votes from representatives of national federations, media and fans and fellow players in the poll conducted on FIH's website.
Prasad, who polled 34.5% of the combined votes, finished ahead of Argentina's Maico Casella (22%) and Australia's Blake Govers (20.9%), FIH announced in a release. He got 50% of votes cast by representatives of national associations, 23% of the media votes and 15.1% of the fan/player votes.
Prasad made his senior team debut at the 2018 Gold Coast Commonwealth Games as a 17-year-old and within a year cemented his place in the midfield, filling the breach caused by the retirement of Sardar Singh. In 2019, as the Indian team qualified for the Olympics, Prasad's performances in the Sultan Azlan Shah Cup, in which he scored two goals, and FIH Series Finals, in which he was adjudged the best young player, earned him wholesome praise. Noted for his nerveless demeanour, ball control and body feints that have helped him cement his place in the squad, Prasad possesses skills of yesteryear stars in an era dominated by physical fitness and power-play.
Prasad was elated but was determined not to rest on his laurels.
"I am happy to win this award; to get noticed for your performance in a team is a good achievement. But I will have to thank my teammates, the coaching staff and the federation without whose support I could not have won this award," Prasad told Hindustan Times.
He hopes to be an inspiration to young players from Madhya Pradesh, where hockey has long lost the battle to cricket. "I have learned from my seniors and I hope youngsters from my state take inspiration from my winning this award," he said.
Prasad, who has captained the state, said he has learnt a lot from his seniors that has held him in good stead and wants to continue improving his game in the Olympic year. Winning a medal at the Tokyo Games is Prasad's biggest goal.
Prasad picked his performance in the 2018 Champions Trophy as the most significant yet. "There are 3-4 matches that come to mind immediately, but I would pick my performance in the 2018 Champions Trophy as the most satisfactory. One thing that made it more memorable was it was the last edition of the Champions Trophy."
Close Story
Personalise your news feed. Follow trending topics