With song on lips, India's 1975 Hockey World Cup hero Ashok Kumar scored a winner
Hindustan Times, Bhubaneswar |
Sandip Sikdar
Dec 10, 2018 05:41 PM IST
India beat Pakistan 2-1 in the final of 1975 Hockey World Cup. Ashok Kumar scored the winner in the 51st minute of the game in Kuala Lumpur.
Among his many distinctions, Ashok Kumar is primarily known for two reasons – for being the son of the greatest ever hockey player Dhyan Chand and scoring the winning goal in the 1975 World Cup final – the only time India lifted the trophy in the history of the tournament.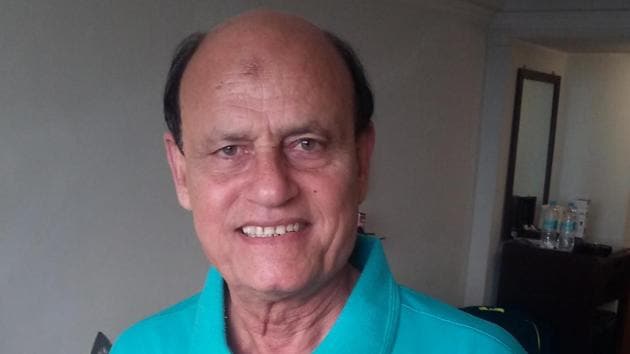 However, very few are aware that Ashok possesses a fine quality of being a very good singer and was often asked to sing songs by fellow players.
Interestingly, one such instance took place during the 1975 World Cup final when the then Pakistan captain and two-time World Cup (1971, 1978) winner Islahuddin Siddiqui asked him to sing 'Jai Jai Shiv Shankar' just before the start of the summit clash.
"Ashok started left-in and was standing opposite to me before the whistle blew. I said Ashok 'gaana gao' and he looked at me surprised, saying the final is about to start! But nevertheless, he straightened his stick, started beating it and sang 'Jai Jai Shiv Shankar' after which the game began," laughed the three-time Asian Games gold medallist Islahuddin.
"That just showed how confident the two teams were and there was mutual respect between the players."
Ashok said they used to sing songs during matches.
"We used to sing in the field. He would say 'Ashok yaar gaana suna de'. I also used to sing 'dil aise kisi ne mera toda' during games. We shared a great relationship with some Pakistani players. We have gone for their weddings and some of the players' mothers would come to receive us at the airport too!" said the 68-year-old Ashok.
The friendship between that generation of Indian and Pakistani players started during the Asia XI vs Europe XI series in 1974 which commemorated the 50th anniversary of the international hockey federation (FIH).
"In Asia XI, Ashok used to be right-in alongside me. Surjit Singh was full-back and Ajit Pal Singh centre-half. All of us came really close. Otherwise, earlier we were reserved. We would meet at World Cups, Olympics, Asian Games and would say hello and move on," said the Meerut-born Islahuddin, who was one when his family migrated to Karachi in 1949.
"After 1974 all of us became very good friends. We came to know that Ashok could sing so we used to make him sing all the time and that time 'Jai Jai Shiv Shankar' was a popular number. I called many of my old Indian friends the moment I reached Bhubaneswar."
A former Pakistan coach and currently their chief selector, Islahuddin also wanted to visit veteran actor Dilip Kumar in Mumbai but was denied a visa.