Patna most polluted Bihar city, Muzaffarpur next
Jan 13, 2017 11:19 AM IST
Patna has figured at the 12th position on the list of the 20 most polluted cities in India
Patna is the most polluted city in Bihar in terms of ambient air quality, followed by Muzaffarpur, as per a report released on Wednesday by Greenpeace, a non-governmental global watchdog for environment protection.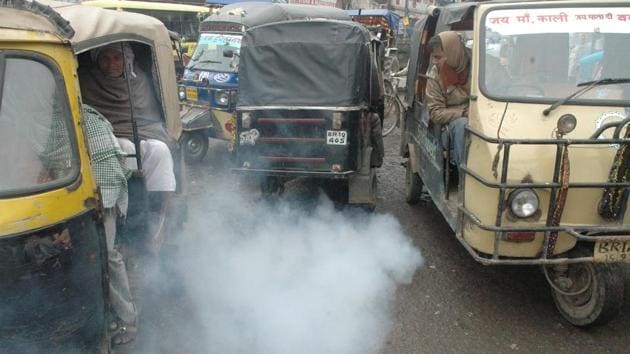 Among the top 20 cities in India suffering from concentration of particulate matter (PM) 10 (indicating a very high level of pollution), Patna stands at the 12th position. Muzaffarpur is outside the list, standing at the 24th position.
Five of the 20 PM10 air pollution level cities are from Jharkhand, while Patna is the lone representative from Bihar.
Delhi tops the pollution table with the presence of 268 µg/m3 PM10 air pollution against the national average safety level of 60 µg/m3, as declared by the Central pollution control board (CPCB).
Likewise, the annual average concentration of PM10 in Patna's ambient air was recorded at 200 µg/m3, while it was 164 µg/m3 at Muzaffarpur.
Among the Jharkhand towns, the annual average concentration of PM10 was recorded at 228 µg/m3 at Jharia, 216 µg/m3 at Ranchi, 214 µg/m3 at Kusunda and 211 µg/m3 at Bastacola.
The report said the data indicated a health emergency faced by the people inhabiting the areas having high annual average concentrations of PM10. In Patna and Muzaffarpur , it was very high round the year in 2015, with PM10 concentration crossing 300 µg/m3 in some months.
In Bihar, transport was found to be the main source of PM10, contributing about 13-22% of the total pollution.
Road dust (14-19%), domestic sources (12-16%), generator sets (5-6%), open waste burning (9-11%), manufacturing industries (5-10%), brick kilns (11-29%) and construction activities (8-13%) also contributed significantly to air pollution.
Recently, Centre for environment and energy development (Ceed) had called for emergency measures as levels of PM10 and PM2.5 at various Patna schools were found to be 17 times higher than the safety limit set by the World Health Organisation (WHO).
The Ceed study showed real time monitoring of air quality did not record a single day under the ''Good'' or ''Satisfactory'' category, across all institutions in Patna.
The concentration of PM in all samples is higher during mornings and late morning hours, compared to noon and evening hours.
This variation in concentration raised serious concern for the students, especially for ones below the age of five, since their school arrival and departure timings lie within the period when the exposure level is higher (6 a.m. - 12 noon).