Alumni Connect: Woman who 'skydived' past gender divides
Shital Mahajan, a Padmashri awardee, a world record holder shares her journey through college and how she found her calling in skydiving.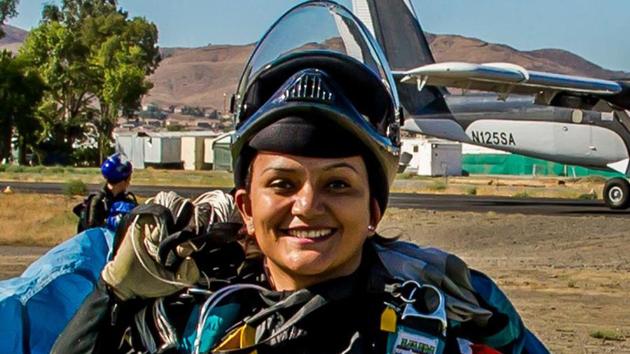 Updated on Feb 23, 2018 03:19 PM IST
Hindustan Times, Pune | By Ananya Barua
Shital Mahajan is a Fergusson College alumni, a Padmashri awardee, a world record holder in skydiving and also the youngest woman to have skydived at both the North and South Pole. She shares her journey through college and how she found her calling in skydiving.
Tell us about your educational background?
I did BSc in Zoology and graduated from Fergusson College in 2006. I was to pass out in 2005, but in 2004, I set out on the mission to skydive at the North Pole. The expedition consumed a year and I couldn't sit for my finals. Therefore, I have batch-mates from the batches of 2005 and 2006. As a student, I was an average student in terms of academics, but my life revolved around sports. With each passing day, I worked harder to perfect it.
What drove you to chose this career path?
Since childhood, I have harboured the dream to do something for my country. It began with my aspiration to join the armed forces in any combat role, but eventually, as I grew up, I realised that this opportunity was not available for women in the country. The spirit to defy gender roles and do something which is equally crazy and challenging pushed me towards skydiving and I took my first leap. I was first exposed to skydiving through a friend. Her brother was in the National Defence Academy (NDA) and had been featured in the media for the sport. I got hooked to the sport then and found my calling. I eventually became the first woman to do a parachute jump without any training over the North Pole in minus 37 degrees Celsius from 2,400 ft in 2004.
Tell us about your achievements?
Recently, I set a new record by becoming the first Indian to skydive sporting a Nav-wari saree in Thailand on February 13. Apart from that, I became the first woman to sky dive from North Pole and the first accelerated free fall jump without any trials over the Antarctica - South Pole from 11,600 feet. I am also the youngest woman to jump over both the North and South Poles. I hold six world records and 17 national records in skydiving and have also been honoured with Padmashri in 2011.
What happened after graduation?
I had begun my journey into skydiving before my graduation and it continued after. I was never scared because I had to prove to the world that a woman can do anything. The challenge was to find sponsors because it is an expensive sport. Despite winning a Padmashri award, there hasn't been much government funding. Therefore, whatever I have achieved is through the sponsors' help and my own investment.
What are your future plans?
I am planning to skydive from Mount Everest in April 2019 and then raise the bar as it goes with the sponsors in terms of skydiving in space. Then, in the recent future, I want to represent India in the 2018 Wingsuit World Championships as no Indian woman has ever done that. The sport is not about gender or about physical fitness alone. The most important aspect is the mind and the mental fitness. If that is achieved, nothing is impossible for anyone at all.
Close Story