Deccan residents do not root for Mhatoba Tekdi biodiversity park in Pune
Residents allege that the legislator's proposed plan on hill will negatively affect ecosystem.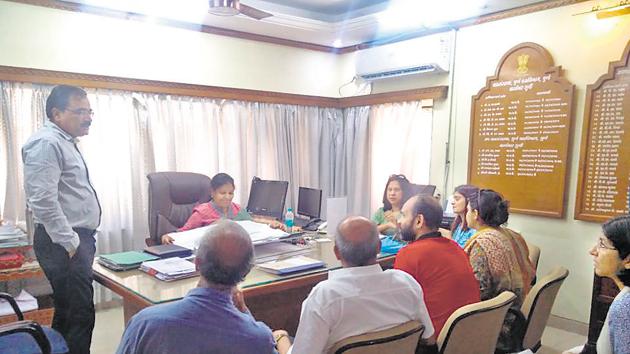 Updated on May 10, 2018 03:04 PM IST
Hindustan Times, Pune |
Prachi Bari
Opposing the ambitious plan of creating an urban biodiversity park at Mhatoba Tekdi (hill) announced by Kothrud legislator Medha Kulkarni last week, the Deccan residents met the forest department officials on Wednesday and presented their views. The forest department officials assured them that no action will be taken without review and planning.
Members of Deccan Gymkhana Parisar Samiti held a meeting with A Sreelakshmi, deputy conservator of forest (DCF), seeking clarification on what the project entails. Residents said that the word 'park' was causing anxiousness amongst regular hill goers, who do not want any construction activity to be allowed under the pretext of biodiversity park development.
During the meeting, Sreelakshmi assured the members of Deccan Gymkhana Parisar Samiti that there will be no concrete constructions like bio-toilets, tiled pathways and concrete walls on the hill. She also said that the project will be under her supervision and the contract will not be given to an outsider. According to officials, the forest department will consult biodiversity expert Sachin Punekar for analysing the project plan. The process will also be open to the public through an urban forest committee, supervised by Sreelakshmi, where some chosen representatives can join hands with the forest department to work on hill-related issues, said the officials concerned.
Meanwhile, Kulkarni said, "The rejuvenation of Survey number 102, Kothrud, is a vision to offer a green area to urban setting. I have taken a scientific approach towards plantation and have identified the gaps. We aim to plant native trees along with the existing ones. Land parcels with lesser tree density will be cleared out to develop a biodiversity zone, trenches will be dug for birds and animals, which will attract wildlife and restore the missing ecosystem. This is necessary as the city lies in the hot and dry climatic zone and no water is available on the hill during summer."
Sreelakshmi said, "The proposal is part of a forest department project that was sanctioned last year. It is being carried out now and culling of trees will only be undertaken in a small section, owing to the opposition by residents."
According to Deccan residents, the forest officials listened to them and gave a positive response. "Sreelakshmi assured us that no construction work would be allowed on the hill," said Sushma Date, a member of the Deccan Gymkhana Parisar Samiti.
Ashwini Darekar, another regular hill goer, said, "We are happy with her assurance and hope that the hill will remain a natural forest. We do not want it to become a space for encroachers to take control of in the future."
Kulkarni said her plan also includes basic facilities, including controlled access to the hill with security guards, providing minimum facilities like solar lights at prominent locations like entry points and temples, water tanks and pipelines for watering newly planted saplings, garbage bins at regular intervals to avoid litter on the hill and signages with the map for the hill.
"Frequent visits by alcoholics, the filth on the hill and the ignorance of people in understanding the scientific necessity of rejuvenation of hills has led to 30,000 sq m of forest land of the proposed biodiversity part turning into unusable public spaces. I understand the concern of activists and their sense of belonging to the hill, but it is highly unacceptable that these people don't want to meet me to discuss these issues," she added.
Close Story