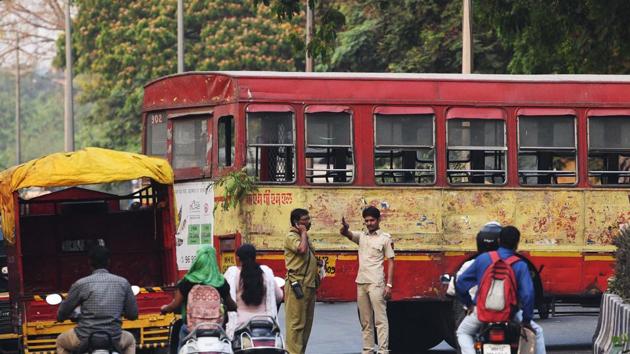 PMPML's revenue, passenger footfall takes a dip after Mundhe's transfer
The PMPML received an income of about Rs 1,44,70,769 in January 2018, Rs 1,47,48,000 in February 2018 and Rs 1,34,07,000 in March. Statistics show that the number of passengers travelling by PMPML has also declined in the past three months
Hindustan Times, Pune | By Shrinivas Deshpande
, Pune
UPDATED ON APR 09, 2018 03:41 PM IST
Pune Mahanagar Parivahan Mahamandal Limited's (PMPML) revenue and passenger traffic has seen a significant decrease in the last three months after former chief managing director Tukaram Mundhe was transferred to Nashik.
Statistics revealed by PMPML shows that its income has decreased in March 2018 as compared to the revenue of January and February of the same year.
The PMPML received an income of about Rs 1,44,70,769 in January 2018. The income received during February 2018 was estimated at Rs 1,47,48,000, while for March, it was estimated at Rs 1,34,07,000.
Statistics show that the number of passengers travelling by PMPML has also gone down in the past three months.
As many as 10,71,579 passengers were reported in January 2018 and in February, the number reached 10,71,878. But by the end of March, the number of passengers dropped to 9,92,435, as reported by PMPML.
"Yes, there is marginal decrease in revenue in March, but that is not a reason for concern. As school and college exams were going on, March witnessed a reduction in both the number of passengers and revenue. From April, it will keep increasing," said Subhash Gaikwad, the public relations officer of PMPML.
According to PMPML, its average daily income, in November 2016, was recorded at Rs 1.39 crore. In November 2017, PMPML had an average daily revenue collection of Rs 1.52 crore. However, in March 2018, the daily revenue dropped to Rs 1.47 crore.
Speaking on the issue, Sanjay Shitole of PMP Pravasi Manch, an NGO working in the transport sector, said, "I do not know how it can be correlated to the transfer of Tukaram Mundhe, but I have personally seen that the control of the management over PMPML staff has reduced.The downward spiral of passenger footfall and revenue is only due to the poor maintenance of buses."
Close