Pune's air becomes 'toxic'
Updated on Nov 28, 2018 03:00 PM IST
Safar issues health risk warning as PM2.5 and PM10 levels cross permissible mark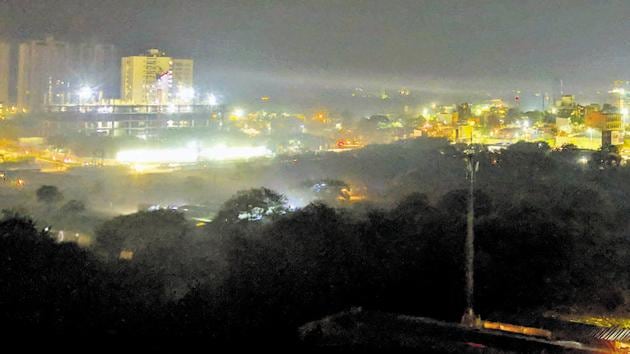 Hindustan Times, Pune |
Shrinivas Deshpande
The city reported 'very poor' levels of PM10 (atmospheric particulate matter (PM) that have a diameter of 10 micrometers) and PM 2.5 in Lohegaon, Hinjewadi, Shivajinagar and Katraj after it crossed the permissible limits (stated below) as the mercury dipped to 11.3 degrees Celsius on Tuesday morning.
According to the system of air quality and weather forecasting and research (Safar) system, air quality of Pune turned "very poor" when the levels of particulate matter, or pollutants that are hazardous for health, reached five times the permissible mark. The permissible limit for PM10 in the air is 100 µgm-3 while the same for PM2.5 is 60 µgm-3.
On Tuesday morning, PM 2.5 at Katraj was 326 µgm-3 while in Hinjewadi it was 100 µgm-3. The PM 2.5 level at Lohegaon and Shivajinagar were recorded at 217 µgm-3 and 290 µgm-3 respectively. PM 10 recorded at Hinjewadi was 98 µgm-3; 159 µgm-3 in Lohegaon; 142 µgm-3 in Shivajinagar and 154 µgm-3 in Katraj.
Safar's project director Gufran Beig said, "Air quality in the city has deteriorated because winter has settled in the city. At the same time, the increase in construction activity in various areas is also responsible for the deteriorating air quality." Safar predicts that there is a possibility that the situation will deteriorate in the next two days. However, the situation will normalise by Sunday, Safar added.
Even though the city recorded an air quality index of 166 (permissible limit is 100), this was one of the worst air quality levels the city has seen so far this season, said Safar. The conditions could remain the same for two more days, predicted the Indian institute of tropical meteorology (IITM) and Safar. Both IITM and Safar function under the ministry of earth sciences.
Air quality is analysed by measuring, among other things, the level of particulate matter (PM) in the atmosphere. Particulate matter in the atmosphere - PM 10 and PM 2.5 - is dangerous. An increase in PM 2.5 levels is the most dangerous as it can penetrate deep into the lungs and enter the bloodstream.
Health advisory issued by IITM, Safar states that people with heart or lung disease, older adults, and children should avoid prolonged or heavy exertion; everyone else should reduce prolonged or heavy exertion. There is possibility of significant increase in respiratory problems among the general population, the advisory stated.
Personalise your news feed. Follow trending topics