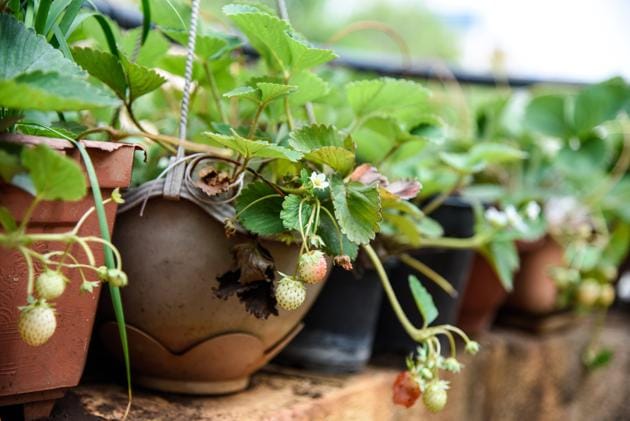 Pune's Brown Leaf initiative saves 5,000 gunny bags of dry leaves from getting burnt, uses them as compost
According to experts, burning of dry leaves generate large amount of particulates that can reach lung tissues and cause coughing, wheezing, chest pain, shortness of breath and long-term respiratory problems.
Hindustan Times, Pune | By Prachi Bari
PUBLISHED ON OCT 23, 2017 04:56 PM IST
Burning dry leaves is banned in many countries as it leads to air pollution. It is a health hazard as the smoke contains number of toxic particles and gases, according to environmentalists. However, it is a common site in Pune.
Post Diwali, the roads are strewn with dried leaves and fire cracker wrappers. Also, between November and March, trees shed leaves and a large quantity is found burnt on the roadside as it seems like the easiest option for Pune Municipal Corporation (PMC) staff refusing to pick up the garden waste.
According to experts, burning of dry leaves generate large amount of particulates that can reach lung tissues and cause coughing, wheezing, chest pain, shortness of breath and long-term respiratory problems. For people suffering from asthma or other breathing disorders, leaf burning is extremely hazardous.
To prevent this burning of leaves, Aditi Deodhar, a software consultant, came up with an idea – the Brown Leaf initiative in 2016. "The idea is to prevent burning and dumping of dry leaves and provide ecologically-friendly alternatives and this is where Brown Leaf comes in as a platform for nature-friendly solutions to manage dry leaves," said Deodhar.
The group started in a small way, with a single vision – not a single dry leaf should be burnt. It has now expanded through social media and personal messaging that recently an app was launched.
"We collect a lot of brown leaves in a tempo per pit and when ever it is full, usually I keep it for composting and offer it to whoever wants it. The Brown Leaf is a good initiative, connecting both - user and giver - thus excess leaves can be utilised," said Mangesh Dighe, environment officer (Enivronment Cell), PMC.
The Brown Leaf WhatsApp group was created for exchange of dry leaves, a facility for donors and takers to communicate with each other. But, rapidly the group grew into an active, idea sharing, vibrant community. Expert gardeners from the group started sharing advice and pictures from their gardens. Many members started composting and gardening, said members part of the group.
These budding gardeners (including Aditi) began seeking guidance from experts. "This idea exchange was new to me, something I had not expected when I started the group. But, I realised this exchange was necessary since dry leaves in themselves cannot be the topic, until it leads to composting, mulching and eventually gardening. Also, these discussions helped change the mind set that perceives dry leaves as waste. This was something amazing happening on the group," said Deodhar.
Members tried it out and provided feedback. In October-end, the final version will be out on Google Playstore for all to download. The current version, too, is available on the playstore, but it is in test mode only. From November, the app will take over the exchange of dry leaves and groups will continue as a discussion forum, a thinktank.
Dr Sejal Sheth, dentist by profession and an ardent gardener living Shaniwar Peth, said she has a terrace garden where she uses Brown Leaf initiative and has transformed her garden. "I heard about Aditi and her initiative when I visited Suchitra Diwan's terrace garden and was amazed at what just using dry leaves could do. It is the most natural way of gardening and her garden was in full bloom. I love gardening and use to plant saplings in flowerpots, but after learning about organic, natural way of using dry leaves, I shifted to planting my shrubs, plants in beds created with bricks and using only dry leaves; I saw my trees grow healthy."
Hemal Vachhani, a teacher, said, "I will be delighted to use the app, as I am a regular user of brown leaves. I have a big campus and a garden in Millennium School."
Even societies are trying their hand at using the dry leaf initiative. Manmohan society in Karvenagar, makes compost using only dry leaves. They do not burn a single leaf or throw it out, instead are supplying much-needed nutrients to soil. According to the resident, last year they harvested 20 tonnes of compost and earned profit of Rs.25,000 on that harvest and they are doing it successfully for the last seven years.
Close