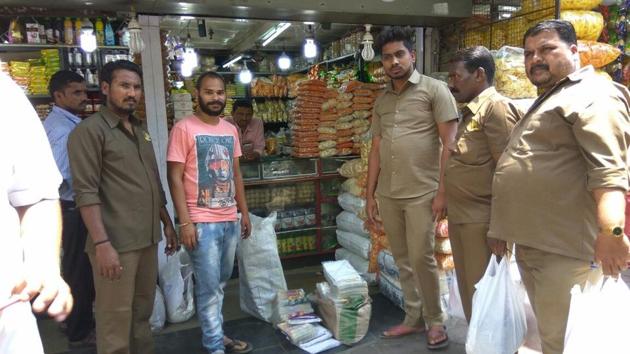 Pune's governing body seizes 12 tonnes of plastic in five days
Pune Municipal Corporation claims that after the announcement of the plastic ban, there has been lesser plastic waste in the city's garbage collection
UPDATED ON APR 04, 2018 03:10 PM IST
Even though the state government had given a window of one month before action would be taken against plastic use, the Pune Municipal Corporation (PMC) has already started the drive to seize plastic bags from various vendors.
PMC solid waste management department head Suresh Jagtap said that the PMC had seized almost 12 tonnes of plastic bags. PMC has instructed all the regional ward offices to carry on the anti-plastic drive.
Jagtap said that as media took up the plastic ban issue, hawkers and shop owners have on their own stopped giving plastic bags to consumers.
PMC is also appealing people to avoid the use of plastic and thermacol in the city.
PMC is not imposing any action against the traders or residents, but are just seizing carry bags at the moment. The PMC is printing pamphlets to distribute. Sweepers will ensure that pamphlets get dropped in each home. These pamphlets will have detailed information about what items are banned, the state government's instructions and will also create awareness about environment.
Another PMC official said on the condition of anonymity that at some places, traders are fighting with PMC employees. They are claiming that the state government had given one month's window to destroy the plastic. In those cases, PMC officials are handling it politely and just appealing to them not to use it.
Jagtap said,"Though the state government and PMC are appealing to residents to handover existing stock of carry bags and banned items, they are not coming forward to hand it over."
Pune Municipal Corporation claimed that after the announcement of the plastic ban, there has been less plastic waste in the city's garbage collection. Solid waste department head Suresh Jagtap said that the ground level employees are giving feedback regarding the same. Once the system of fining people for plastic usage is in place, PMC is hoping that there would be very minimum plastic waste in the total garbage collection.
Close